Denise Richards Thanks Fans For Catching Her Thyroid Issue On TV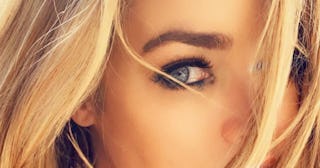 Denise Richards/Instagram
Fans noticed that Denise Richards appeared to have an enlarged thyroid during a Real Housewives of Beverly Hills reunion episode
Denise Richards might have never discovered that she had a thyroid problem if it weren't for The Real Housewives of Beverly Hills. Richards shared a social media post thanking RHOBH superfans for messaging her after they noticed that her thyroid appeared enlarged during the reunion episodes.
"A few of you pointed out after the #RHOBH reunion that my thyroid was enlarged. You were right, it was something I ignored until pointed out," Richards wrote on Instagram.
Since the diagnosis, Richards has found that a gluten-free diet is helping with her thyroid issues.
"It's amazing to me in a short time eliminating gluten from my diet how much my thyroid has changed," she added on Instagram. "I had no idea how much our diet really can affect our body and for me how toxic gluten really is … I thank all of you who sent me messages."
According to the Mayo Clinic, an enlarged thyroid gland (known as a goiter) can be a symptom of hypothyroidism — thyroid gland doesn't produce enough hormones — or hyperthyroidism — an overproduction of hormones. A goiter can also be a sign of Graves' or Hashimoto's disease and in some cases, a goiter may not even need treatment.
Although a gluten-free diet worked for Richards, there is no scientific evidence to back up this claim. If you suspect you have an enlarged thyroid, you should consult your doctor about next steps.
This actually isn't the first time that a reality star was diagnosed with a thyroid issue on television. Last year, Dr. Erich Voigt was watching an episode of the HGTV show, Beachfront Bargain Hunt, when he noticed that one of the show's contestants had a "left thyroid mass." He was so concerned for the woman's health that he found her on Facebook and advised her to get a sonogram.
"She was unaware that she had a mass," Voigt wrote on Facebook. "Her doctors had never noticed it. She went for the sonogram and biopsy I recommended. She just let me know [that] the biopsy revealed thyroid cancer. She will be seeing a surgeon and getting appropriate treatment and I hope she will be cured!"
Here's to the power of reality tv and to ensuring you get those thyroids checked!
This article was originally published on