Dennis Quaid's 'The Parent Trap' Co-Star Mocks His Engagement To Younger Woman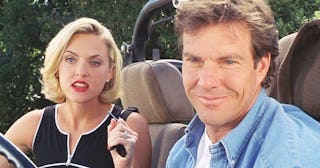 Buena Vista Pictures
Elaine Hendrix has the perfect tweet about Dennis Quaid's engagement to 26-year-old
There have been an abundance of entertaining reactions to the news that actor Dennis Quaid, who is 65 years old, is newly engaged to a woman who is 39 years his junior, 26-year-old Laura Savoie. But there's one reaction that takes the cake — that of Elaine Hendrix, his co-star in the 1998 remake of The Parent Trap.
Hendrix portrayed Meredith Blake, the much younger woman Quaid's character was engaged to in the film. The character of Blake was, interestingly, 26 years old in the film — but Quaid's Nick Parker wasn't exactly 65 back then. And it was still a scandalous enough age difference for Lindsay Lohan's twin daughter characters to be put off by.
Fans of The Parent Trap will recall the hijinks Annie and Hallie Parker got up to when they reunited to thwart their dad's engagement plans with hopes of getting their divorced parents back together. Which just makes Hendrix's response to Quaid's real-life nuptial news that much more perfect.
LOL. You love to see it, folks. You really do. And honestly? It's a harmless (if viral) response. It's not mean, it's not snarky — it's just right. Now as for the rest of the internet, when news of Quaid's engagement broke, let's just say most people's responses weren't as, uh, generous about the couple's age difference.
In fact, most of the world went a little something like this:
https://twitter.com/jetpack/status/1186345893596979202
https://twitter.com/jetpack/status/1186419646427090945
https://twitter.com/jetpack/status/1186501574719205376
That last one is also perfection. Truly.
According to PEOPLE, Quaid proposed to Savoie, after "several months of dating." He proposed in Hawaii while on-set for his latest movie. "I had the ring in my pocket. It has been kind of a month-and-a-half plan — I wanted it to be private," he says. "She was actually taking a selfie of us, and I put the ring in front and said, 'Will you marry me?' And then she fell down."
Savoie is currently working toward her Ph.D. in accounting at the University of Texas at Austin and expects to graduate in 2021.
Those of us old enough to recall know that Dennis Quaid and Meg Ryan were quite an "it" couple of the '90s, and have one son together — 27-year-old Jack. So yes, his new wife is younger than his son. After his divorce from Ryan, Quaid was previously married to Kimberly Buffington before their divorce in 2016. The two share joint physical custody of their twins Thomas and Zoe, both 11 years old.
Which means that perhaps the future spouse of his twins is already out there somewhere right now, just you know, being 50 years old.
This article was originally published on