Derek Chauvin Sentenced To 22.5 Years For The Murder Of George Floyd
by Julie Scagell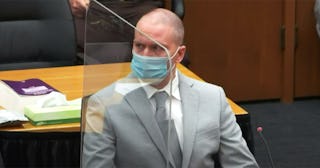 Washington Post/Youtube
Derek Chauvin's request for a new trial was also denied
Derek Chauvin, the former Minneapolis police officer who was charged with the murder of George Floyd, has been sentenced to 22.5 years in prison — 10 years longer than the presumptive sentence of 12.5 years. He'd previously been found guilty of second-degree unintentional murder, third-degree murder, and second-degree manslaughter for his role in Floyd's death.
Minnesota state prosecutors requested a 30-year prison sentence, saying it "would properly account for the profound impact of Defendant's conduct on the victim, the victim's family, and the community," according to CNN. However, Chauvin could've been sentenced with up to 40 years in prison for second-degree murder, up to 25 years for third-degree murder, and up to ten years for manslaughter by law.
Hennepin County District Court Judge Peter Cahill had previously ruled that four "aggravating factors" apply in the case, which would allow him to deliver a longer sentence than Minnesota's guidelines call for.
Earlier today, Chauvin's post-verdict motion filed by his attorney Eric Nelson asking for a new trial was denied.
Cahill said that Chauvin "failed to demonstrate…that the Court abused its discretion or committed error such that Defendant was deprived of his constitutional right to a fair trial," as well as that any prosecutorial or juror misconduct existed.
"Mr. Chauvin asks the Court to look beyond its findings, to his background, his lack of criminal history, his amenability to probation, to the unusual facts of this case, and to his being a product of a 'broken' system," Nelson wrote in a filing asking for probation and time served prior to his sentencing.
Chauvin knelt on Floyd's neck for more than nine minutes in May 2020 while Floyd continuously pleaded for his life, saying he couldn't breathe. His death was captured on video by then-17-year-old Darnella Frazier, sparking global protests against police brutality and systemic racism. Frazier was officially recognized by the Pulitzer Prize Board with a special citation for the video.
Prior to his sentencing, members of Floyd's family spoke to judge Cahill and to Chauvin directly.
His daughter, Gianna, seven, talked on video to the court. "I ask about him all the time," she said. When a woman with Gianna asked, "Do you wish he was still here with us," Gianna said, "Yes, but he still is (in spirit)." If you could say anything to your dad, what would it be," the woman asked. "I miss you all the time and I love you," young Gianna replied.
"My niece deserves closure…he'll never be able to walk her down the aisle," brother Philonise Floyd said during his statement. "My family and I have been given a life sentence…I have had to sit through each day of officer Derek Chauvin's trial and watch the video of George dying for hours, over and over again."
Chauvin was permitted to speak at his sentencing hearing but chose not to make a public statement other than to give his condolences to the Floyd family.
He faces the possibility of another trial after being indicted by a federal grand jury earlier this year. The grand jury indicted Chauvin in two cases: kneeling on Floyd's neck for over nine minutes in May 2020, which led to his death, and for similar action taken with a 14-year-old boy in 2017.
With good behavior, Chauvin will most likely serve two-thirds of his prison sentence and spend the rest on parole.