10 Things To Do In Des Moines With Kids
by Amy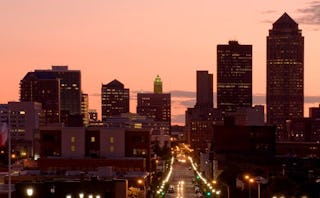 Des Moines is a major center for the insurance industry and also has a sizable financial services and publishing business base. In fact, Des Moines was credited with the "number one spot for U.S. insurance companies" in a Business Wire article and dubbed the third largest insurance capital of the world. It also happens to be a great place to live and visit with kids; here are ten of our favorite things to do in Des Moines with kids …
1. John & Mary Pappajohn Sculpture Park. When it's a nice day and you're looking for free things to do in Des Moines with kids, take them to one of the Metro's art attractions, the John and Mary Pappajohn Sculpture Park in downtown Des Moines. This 4.4-acre sculpture park features 27 works of art donated to the museum by John and Mary Pappajohn from their renowned collection of contemporary sculptures.After you're finished taking pictures and chasing after the kids, grab a sandwich or drink at a nearby restaurant.
2. The Downtown Farmers' Market showcases Iowa producers from 51 counties, offering fresh fruit, vegetables, jewelry, salsa, breads and more. Parking can be just a few dollars, but enjoy free samples and live music. Regular market runs every Saturday from May – October.
3. Adventureland Park and Adventure Bay. With more than 100 rides, shows and attractions, including three roller coasters, there's something for all ages are available. Adventure Bay water park is included in the price of admission. And if the kiddos need some rest, get your hand stamped to come back later.
4. Blank Park Zoo. Need to get out of the house? This small zoo has just what you need – for both you and the kids. It'll only take you about an hour to go through it, and there's even a petting zoo area for the smaller kids.
5. If you'll be in Iowa in August, don't miss the Iowa State Fair. Park further away from the fairgrounds to save some money, and then catch a city bus for just a buck each way. See the famous Butter Cow and try at least one of the 50 fair foods served on a stick. And there are plenty of free shows and animals to look at, so you don't have to spend a fortune. It's featured in the New York Times bestseller "1000 Places to See Before You Die."
6. Cascade Falls. Enjoy water slides, a swirl bowl slide, two diving platforms, a zero depth recreation pool, a lap pool and a flow rider surf machine. There are amenities geared for people of all ages. Check out the full-service concessions and locker room facilities, too.
7. Gray's Lake. Walk, bike and picnic here for free at the 167-acre lake with a two-mile trail encircling. Enjoy the boat rental facility, a fishing pier, floating boardwalks, and a park resource center, too.
8. Center Grove Orchard: Visiting Des Moines with kids in the fall? Check out Center Grove Orchard, which offers apples, pie, donuts, jams and jellies. Kids can check out the corn pool and maze for an additional cost.
9. Kirkendall Public Library. This library loves kids. On any day of the week, participate in story time, family movie night and more. The play train table, iPads and coloring stations appeal to kids, too. And it's all free!
10. National Balloon Museum. For a low entrance fee, the National Balloon Museum provides the public with an understanding of ballooning and its history through its exhibitions and collections. The museum archives more than 200 years of ballooning, hosts 5,000 visitors a year (with 20 countries in attendance) and operates on more than 2,000 volunteer hours annually.
Got any Des Moines favorites? Leave them in the comments!
This article was originally published on