Designer Rachel Zoe Opens an Office Nursery, and Wins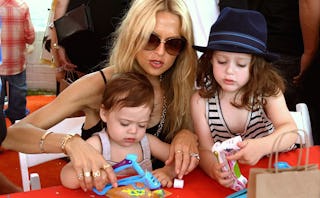 But pumping was awful. They gave me an empty office (which later became a storage room) to use, and one day someone walked in on me, and then his jaw dropped. He stood there, mesmerized, until I gave up on politely asking him to leave and yelled "GET OUT!" in desperation. Of course that was it for the pumping session, too.
And there was also the joy of carrying the pump and the milk through the hallways, washing the tubes and boob-suction cones out, and then trying to get the milk home without spilling it. All such good memories. If only I'd worked for Rachel Zoe!
When the fashion designer realized that five of her staffers were all expecting babies within a couple of months in 2014, she decided that she shouldn't be the only one at her company lucky enough to have access to her babies during the day. She didn't have to choose between a career and motherhood and didn't think her employees should have to, either. So she invested—and it was definitely an investment, financially—in building a nursery for them next door.
She says it was the best business decision she ever made.
… [W]hat we are getting in return is invaluable," she wrote in a blog post about it. "The working mothers at our company can improve and grow our business without having to sacrifice spending precious time with their babies at such a crucial stage in their mother-child relationships. In light of the controversies surrounding unequal pay and other forms of gender discrimination, I feel good sending the message to my team that they work for a company that supports and celebrates who they are in their personal lives and that we aren't afraid to let those truths influence the culture in the office in order to make us more productive and happy on the whole.
She knows what it's like to ride the waves of work-life balance.
She says her days are busy, the juxtaposition of photo shoots with school pickups and business meetings with playdates keeping her aware that she's not the only one trying to juggle it all.
"Seeing how motivated and committed the mothers on my team were after returning from maternity leave and being able to set up their babies in the nursery has only solidified my belief that every company should consider this option," she writes. I think if I'd read that in my cold empty-office-turned-storage-room as I pumped, I would've cheered. Or wept.
This article was originally published on