This Video About Life As A 'Boy Mom' Is Way Too Real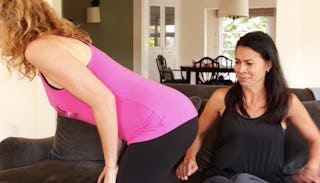 Image via Facebook/MyLifeSuckers
This mom's hilarious video nails what it's like raising boys
If you have a son, you know a few things to be true: there will be messes, there will be Minecraft, and there will be farts.
So. Many. Farts.
That's why if you have a little guy or two (or three, or more — bless you) you'll find yourself nodding and laughing hysterically at this amazing video from Deva Dalporto, the voice behind the popular Facebook page MyLifeSuckers where she shares hilarious videos and thoughts about life as a parent. Her latest is all about being a "Boy Mom," and while it might be a lot of fun, there's definitely a lot of grossness.
The video starts with Dalporto's friend reading her "Boy Mom" shirt and asking, "Boy mom? How different could it really be to be a boy mom?"
To demonstrate just how different, Dalporto stands up and puts her butt directly in her friend's face as fart noises come out.
Yup. That about sums it up.
Throughout the clip, Dalporto shows us all the weird, annoying, and nasty things boys do — and if you live with one, it's intensely relatable. From running toy cars all up and down our bodies to begging to play Minecraft all day to getting pee everywhere but the toilet, she nailed life with small dudes in the house.
The now-viral video was the result of a collaboration with a follow funny mom. "This is based off of a status update Tiffany O'Connor from Hashtaglifewithboys made about what it's like to be a Boy Mom," Dalporto tells Scary Mommy. "Her post resonated with me so much. So I asked her if I could use her post as a springboard and built on it and made it into a video."
Dalporto says everything she did in the video was "basically just directly copying things my son does on a regular basis."
"Every day I find myself shaking my head in amazement at the things my son does. Why does he drink from the sink faucet instead of a glass? Why does he climb over the fence when there's a gate two feet away? It drives me insane. But then he kisses me and tells me he loves me and all is forgiven," she shares.
Exactly. It's those snuggly little boy hugs that melt us. Until we notice the muddy handprints on our shirts. Sigh.
Dalporto is stunned at how viral the video went, but she's totally feeling the solidarity from fellow parents. "But I will admit, it makes me feel better that so many other parents related. It's nice to know other people's boys and girls (because, yes, girls can do all these things too) act like this. I'm not alone!"