It's Almost Día De Los Muertos — Here's What To Know About This Hispanic Holiday
by Holly Garcia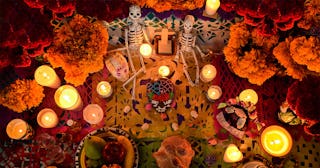 AGCuesta/Shutterstock
Hispanic Heritage Month may be over, but that doesn't mean heritage ends. And what better way to celebrate this than by learning about traditions, like Dia de los Muertos, that come with this time of year? My daughters are Hispanic, and it's been interesting to learn more about their Latinx heritage right alongside them. Even if you aren't Hispanic, according to the 2020 census, over 18% of the U.S. population is. So the chances of you working with someone who is Latinx, having Latinx children in your classroom, or your kids having friends with a different background than yours is very likely. So go ahead and learn about this Latinx holiday.
Dia de Los Muertos isn't just about painting your face to look like a skull and dressing up like a skeleton. The Day of the Dead is when families gather to celebrate the lives of loved ones who have passed. This Hispanic holiday spans two days (November 1st and 2nd). Traditionally, on November 1st, families celebrate the lives of children who have passed, and the following day is for adults.
Conversations around death are sad and hard to have, but Dia de Los Muertos shows death in a different light. The holiday is all about honoring and celebrating loved ones even though they are no longer here. There are traditions behind every flower and beautiful decoration you see this time of year, so let's explore those traditions and learn about The Day of the Dead.
Traditionally, families create spaces or actual altars called ofrendas. Ofrenda translates to the English word offering. In some places, ofrendas are located at a loved one's burial spot, like a memorial. An ofrenda is a space where offerings and gifts are brought to honor those who are being celebrated. These can be things they loved in life (like a child's doll or their favorite pan dulce).
In our home, because we honor loved ones from the Midwest to Jalisco, Santa Fe, we use an end table as an ofrenda in our kitchen. The girls honor our loved ones by decorating it with candles, marigolds, sugar skulls, and photos of those who are no longer with us.
Each choice of decoration on an ofrenda is a symbol and has a specific purpose. For example, candles or lanterns are used to decorate an ofrenda to help guide the spirits of loved ones to this gathering place. This way, they're able to spend time with their family who has gathered around the ofrenda. They can hear all the favorite memories and stories that are shared while their family celebrates their life and remember them.
Marigolds are bright, beautiful, orange and yellow flowers. Their ethereal glow and strong fragrance is said to lead the dearly departed on their way to the ofrenda. When an ofrenda is in an outdoor space or at a loved one's resting place, a trail of petals is created to guide them. But of course, if things are indoors, instead of flowering a literal path with petals, ofrendas will be decorated with them as well. Marigolds are native to the Southwestern U.S. and even further south. But in instances where live flowers aren't available, ofrendas will be decorated with reusable gold and orange marigolds year after year.
Sugar skulls, Calaveras, are probably the most well-known Dia de Los Muertos symbol. The sugar skull is meant to physically represent loved ones. Traditionally their name will be written on the forehead and placed on the ofrenda in remembrance. Calaveras come in all shapes, sizes, colors, and materials. Traditionally, sugar (or candy of some sort) is used purposely for two reasons.
First, it is to remind those who are celebrating their loved ones that even in death, this celebration of their life is meant to be fun and joyful. This is one reason why so many Calaveras are brightly colored and adorned with gems, jewels, or glitter. Secondly, when sugar-based Calaveras are left outside surrounded by the elements, they will quickly melt (or be washed away with rain.) This is a symbol that life is fleeting, and eventually, we all move on from this world.
An ofrenda wouldn't be a finished dedication without photographs of loved ones. Having their photos on the ofrenda guides the spirit of loved back to their family from the land of the remembered to the land of the living. Just like the candles and marigolds, everything that decorates the ofrenda celebrates and remembers loves ones on Dia de Los Muertos.
Dia de Los Muertos isn't all about skeletons, spooks, and spirits. This Hispanic holiday is celebrated to remember loved ones. Even after they leave, they always live on in our hearts, and the day of the dead is a chance to celebrate them.
If you're unfamiliar with the celebration, check out the movies "Coco" on Disney+ or "The Book of Life" on Amazon Prime Video. They're both family-friendly films for all ages. Prepare your mind to learn all about Dia de Los Muertos. Get your hearts ready and your tissues handy; don't say I didn't warn you!
This article was originally published on