Diane Sawyer and Kris Jenner Duke It Out Over the "No Comment" Comment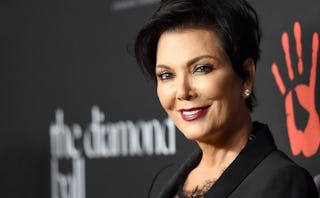 Of course Kris Jenner had to somehow find a way to turn last week's poignant Bruce Jenner interview with Diane Sawyer into a story about her.
I have to admit I was a little surprised to hear Sawyer explain that while both of Bruce's other ex-wives had supplied ABC with supportive soundbites regarding his decision to transition, Kris had "declined to comment." This, after all, is a woman who has made a living by airing her family's dirty laundry on TV for the entire world to see.
After Perez Hilton questioned Kris' silence on Twitter, Kris fired back with her own tweet:
Don't you just love when someone tacks an "LOL" onto the end of an otherwise disparaging statement hoping that it will somehow soften the blow?
ABC, for its part, is still standing by Sawyer. According to People, the network maintains that they reached out to Kris multiple times with no response. "ABC News sent an email to her publicity team more than once," the network revealed in a statement. "They called and said no comment."
Perhaps hoping to do a little damage control, Kris sent out another tweet, this one in support of Bruce's decision:
According to People, Jenner's representative stated that a message had been left at her office asking her for fact checking, but that "Kris said she was unable to respond because she had not seen the special. She did not say, 'No comment.'"
In other words, tomato, to-mah-to. If Kris didn't say the words "no comment," but she never actually commented, isn't that still the same thing?
I think a better question is this: In light of Bruce's brave decision to publicly discuss a lifelong secret, why do we even care?
This article was originally published on