I Didn't Throw My Son A Birthday Party This Year--And We Have No Regrets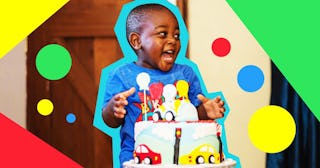 Scary Mommy and Sylvester Malimu/EyeEm/Getty
My seven-year-old son started talking about his seventh birthday the day after he turned six. In our home, we make a big deal out of birthdays—just like my parents always did. We hang up homemade banners, bake a cake of the birthday child's choice, open gifts wrapped in personalized paper, and listen to Stevie Wonder's Happy Birthday song.
But when it comes to parties—I have mixed feelings. I've been the mom who goes all-out, spending months planning an on-theme celebration for my child. Moms know that parties are a lot—and I mean a lot—of work. You have to book a venue—or frantically clean your home—several weeks in advance. Then there's creating and sending out invites, prepping an allergy-friendly menu, and looking up games on Pinterest.
Next up, we have to order all the paper products and decorations that match what our little angel desires. Of course, there are times my kids want a theme that is so outrageous—think ninja-mermaid—that there's absolutely no way I can find the cake plates they're envisioning. Not only does planning a party become a part-time (unpaid) job, but then there's the challenge of RSVPs.
FYI—RSVP stands for répondez s'il vous plait. Basically, you need to tell me if your kid is showing up or not. If you have some party planning experience under your belt, you know that most people will not RSVP. And if they do, they'll change their attendance the morning of the party. You can't win. No matter how carefully you plan and count, your numbers will not pan out in your favor.
Can we talk about the awful horror stories of the child who had no one show up to their party? Then there's the parent who will not only drop off the invited child, but also their child's cousin and two siblings while the parent dashes off to buy groceries or get a manicure. Gee, thanks. Yes, this means you probably will have way too much or not enough food for the attendees—and you're a free babysitter.
I'm going to sound like an 80-year-old woman here, but there are no manners these days when it comes to child birthday parties. Many parents are pretty damn inconsiderate—or perhaps, clueless—on how a party should work. And ultimately, their blunders hurt the birthday kid the most. Children build up the party magic in their minds for weeks upon weeks—and nothing is worse than having your dreams dashed on your birthday.
My stance this year was to completely avoid the entire, chaotic debacle by telling my son that we wouldn't be having a party this year. Did I feel guilty? A little. After all, some of his peers were having parties. After I told him the news, I held my breath, awaiting his response. I anticipated tears or maybe even yelling, but guess what? He was like, "OK." I thought for certain we'd have a battle. Nope.
So instead of ponying up hundreds of dollars for two hours of hyperactivity and disappointment, we opted for several smaller birthday celebrations. We started with my son and his dad going to play laser tag and arcade games the weekend before the actual birthday. The place is an absolute madhouse—with flashing lights, hamburger smells wafting from the adjoining restaurant, and the crashing sounds of nearby bowling games. My son was thrilled to have his dad's full attention for a solid hour of chase-each-other-with-light-guns.
On my son's birthday, we had cake and opened gifts. Earlier that day, his classmates sang to him while he enjoyed his special birthday treat: a giant chocolate cupcake and a mini-jug of milk. It was chill, and he was completely happy. Then the weekend after, his grandparents came to visit, which meant more food and more gifts. Grandparent gifts, in case you're new to parenting, are always far better than any others.
Each kid is different. My oldest tween desperately wanted a party for her last birthday, and we agreed. She's old enough to understand how to budget and plan for a party, and she helped create her entire experience. Also, keeping an eye on eight tweens is so much easier than managing twenty seven-year-olds who have had too much lemonade.
Thankfully, my son didn't mind not having a party. A birthday party sounded good in theory, but once he realized all the fun we had planned, he abandoned the idea. After all, he sees his school friends almost every day, and we see other friends on the weekends. Basically, seeing his peers wasn't where the magic was. But gifts and cake and one-on-one time with his dad? Yes, please.
There were even some surprises thrown in. His BFF got him a new book, dropping it off one day. My son's birth mom sent him an adorable card and a few gifts, too. The unplanned can be just as fun as the planned, if not more so.
I'm not saying no to parties all together. Instead, we're taking it kid-by-kid and year-by-year. I've considered the every-other-year party or the milestone parties—like when they turn 13 and 16. But every time I think I figure out what works best for us, something changes. That's life with four very different kids.
There's no right or wrong way to go about birthdays and party-alternatives are totally fine! Whatever works for your family at any given time is what's right. We need to drop the guilt—and the obligations—and instead, focus on tailoring the celebration to the wonderful kiddo who is turning another year older.
This article was originally published on