'Digital Blackface' Is A Thing, And Something You Need To Be Aware of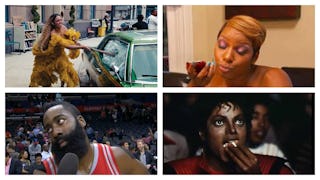 YouTube/GIPHY/YouTube/Tenor
On the internet, GIFS and memes speak for us when we no longer have the words to do so. It's the perfect solution; a curated moment in time that so perfectly expresses whatever thoughts we're having, whether it be joy, frustration, or rage with whatever we're scrolling past. But there is something that many people aren't aware of when they're selecting that perfect GIF — digital blackface.
Digital blackface is basically the use of a GIF or meme featuring a Black person by a non-Black, most specifically white person. When a white or non-Black person uses a reaction GIF or meme featuring a Black person, in that moment they are choosing to metaphorically don the skin of a Black person for the sake of making a point.
For those who may not be familiar with blackface, it is a form of entertainment most popular in the 19th and early 20th centuries, most often seen during minstrel shows. In these shows, white actors would paint their faces with black greasepaint, leaving the area around their mouths stark white in contrast. They would perform exaggerated songs and skits, mocking and perpetuating stereotypes of Black culture. Though it did eventually fall out of favor, because people realized that it was super fucked up, it really just evolved into other forms of blackface, even though the traditional form still does pop up occasionally (Robert Downey Jr. in "Tropic Thunder," for example.)
It is hard to wade into the comment section of a social media thread without seeing some of the same GIFs over and over. The eyeroll of Real Housewives' star Nene Leakes somehow becomes the symbol for millions of white women who just.can't.even. Basketball player James Harden rolling his eyes and walking away from an annoying reporter becomes the representation of white women trying to get away from their annoying mothers-in-law. And Michael Jackson from the "Thriller" video eating popcorn has become the non verbal equivalent of "shit's about to get real." Or when Carol from Idaho decides to use a GIF of any contestant from RuPaul's Drag Race saying "Yas Queen" to tell her friend that she likes her new sweater.
Here's the thing, none of those feelings are wrong per se, but, there is often a better way of expressing it when you're, you know, not Black.
Instead of this:
Try this:
I know there will be a ton of white folks in the comments with their eye rolls (as always), but look, NOBODY is saying not to use GIFs. They're fun, silly and make the Internet a brighter place when it can get pretty fucking bleak. But there are ways to be more aware, and culturally sensitive, of how we're choosing to represent ourselves.
And before you say it, no, a Black person using a GIF of a white person isn't the same thing. We live in a world where white is the default, not the "other." There is no such thing as reverse racism either, so don't go there.
The most popular Black GIFs are often taken in moments of exaggerated expression. Nene's dramatic eye roll while holding the phone away from her face was captured in a moment of extreme annoyance. When we're using GIFs, we're already expressing an extreme version of an emotion, yes, but why is Black always the default for extreme emotions?
Instead of this:
Try this:
Black people, especially Black women are always excused of being "too" whatever, "too angry," "too loud," "too sassy," even if we're not actually behaving in such a manner. Black women can get thrown off a train for "being too loud," even though they were just chatting and having a good time, but a group of drunk white women can be as loud and obnoxious as they want without consequence. When white women want to express their anger, they'll quickly reach for a GIF of Beyonce smashing a car with a baseball bat, thus perpetuating the stigma of the angry Black woman.
Instead of this:
Try this:
(Sidenote, you can slay without using a GIF of Beyonce. Her, and Rihanna, and Zendaya aren't the only women in the world who slay.)
Try this:
It's not really a surprise that something like digital blackface is something that needs to be addressed. White and non-Black people have been co-opting Black culture since pretty much forever, so it's no surprise that digital blackface is something we have to discuss. Once elements of Black culture become mainstream, we are pushed to the side, never acknowledged for our ideas or contributions. It's frustrating as fuck, and there are plenty of big and small, subtle and direct, ways that white people can stop being complacent and furthering the perpetuation of stereotypes.
In this digital age, there are literally millions of ways to express yourself on the Internet. A simple search of the word "popcorn" in the search bar of the Facebook GIF toolbar bring up a bunch of popcorn eaters who aren't Michael Jackson sitting in a movie theater. There is an excellent one of Jon Stewart that perfectly reflects the sentiment, and you know, he's pretty white. It's easy to default to Michael, because I mean, hello, he's an icon. But it doesn't take any additional energy to look up a similar reaction from a person who isn't Black. GIFs can still be fun, but they can be fun without co-opting an entire race's emotions and faces for your laughing pleasure.
When white people use Black people as symbols on the internet, they get to shed that black skin as soon as they drop the comment. We never get to shed that skin, or any of the negative connotations that surround it in today's society. It takes no effort to become aware and change something like this. So, now that you know better, do better.
This article was originally published on