This Mom Got QUITE The Surprise When She Opened Her Son's New 'Toy'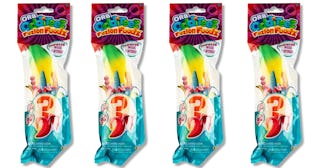 Amazon
These dildo-shaped toys are alright, just perhaps not for children
Everyone loves a deal, especially when you have kids. So when this mom happened to find herself at Walgreens with her toddler and there were some sweet after-Easter discounts on toys, she just couldn't say no. When they got home and he opened the packages, however, there was a whole lot of nope, no thanks, thanks for playing, GTFO happening.
"Alright so my son Finn and I stopped at Walgreens today… They had a ton of their Easter stuff super discounted so I let him grab some random toys," Tamra Lerum wrote on Facebook. "Finn decided he HAD to get these bananas! They're super squishy, and I figured whatever it has cute packaging and it's a good sensory toy for a toddler." I mean, they're probably good sensory toys, just not for toddlers?
"The first photo is what they come in… they're packaged super cute and appealing for kids," she continued. "Then you open the package and peel them! Inside is a surprise!" Oh, it's a surprise alright. It really brings "He is Risen" to a whole other level.
The poor mom then pointed out the obvious, "Looks like a giant dildo my 3 year old is waving around." Yes Tamra, yes it does. Then things went from bad to worse when they picked up her older son at preschool and dear Finn decided to bring the toys in with him. "I told him NOT TO BRING IT IN!!! I yelled FINN PUT THAT AWAY!" which you just know she did by all the capitalization here. What's even better — his preschool is in a church. Bless the Father, Son, Holy Spirit, and these toy anal beads.
These ORB Odditeez FuzionFoodz toys are apparently giant "bananas" with hidden treasures inside. According to their site, these "aPEELing collectibles" have "sweet treats and wacky whatsits" inside, but you don't know exactly what you're getting until you pull back the peel, which rings some bells from my college days.
In case you need a visual of what it looks like to peel a FusionFoodz, here's a handy-dandy video so you can see it with your own eyeballs. "It's supposed to be a finger," Lerum wrote. Not for nothing, but I don't want to pull a plastic "finger" out of a banana any more than a dildo.
Lerum says she wanted to give the free public service announcement to make sure parents know what they're getting if they should happen upon one of these in a store. "I figured I should forewarn anyone who may run into these toys in the future… I would HATE for some parent to buy them as a party favor for their kids birthday party or something." Can you imagine the call from concerned parents after opening these in a gift bag?
We're all for a steal, but I'm thinking these would go over much better (and for a lot more money) if they were marketed towards an older generation. But hey, who are we to judge?
This article was originally published on