Dill Pickle Dip Is Now A Thing And You're Either Thrilled Or Disgusted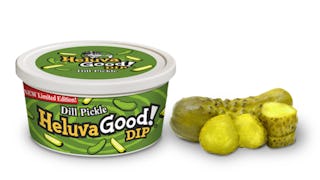 Image via Heluva Good
Dill pickle dip is a thing, and you're going to wait to stock up ASAP
Attention pickle lovers of the world. There's officially a dill pickle dip hitting shelves nationwide, and it's about to be a very sour (in a good way!) ride. Heluva Good Dip — the same company that makes your favorite french onion dip — created this tangy as all hell concoction, which retails at $2.19 for a 12-ounce container. Prepare for a lot of family conversations that involve you trying to convince loved ones that pickles are actually really good…once you get used to the taste, texture, and odor.
Heluva Good promises that their latest invention is "refreshing [and] creamy" and, per Business Insider, the ingredients include pieces of dehydrated cucumber with garlic powder, dill weed, and mustard. The brand recommends pairing the sour dip with a nice, tall glass of IPA (twist my arm, why don't you).
Are you currently salivating right now? Bring on the dip. Bring on the IPA. Things are about to get real.
Understandably, pickles are a very divisive topic and the people of the internet are either super into the idea of dill pickle dip or would like to politely decline on the offer.
If you're really not feeling the pickles, there are plenty of other bold dip options out there (hulllooo Jalapeno Cheddar).
Now, go put on some sweatpants, flop down on the couch, and dip some chips into something super creamy. You deserve it, damnit.