Woman Arrested For Trying To Recreate 'Dirty Dancing' Scene In A Wine Store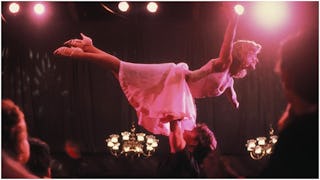 Image via Vestron Pictures
A woman attempted to recreate a Dirty Dancing scene at a wine store and got arrested
Nobody puts Baby in a corner. Especially when she's pretty drunk, feeling whimsical, and wants to re-enact a scene from Dirty Dancing at her local wine store. 24-year-old Cindy Barrientos was arrested for doing just that and I truly believe that she must have been having the time of her life (sorry, not sorry).
Last month, police officers were called to a Total Wine store in Jensen Beach, FL because, according to the manager, two women were "trying to re-enact a scene from the movie Dirty Dancing." No word yet on what specific scene they were trying to re-enact but…I mean…come on…
According to TC Palm, police officers were told that the women "were believed to be intoxicated and causing a disturbance." The friends were reportedly refused service when they first tried to buy alcohol and the manager asked them to leave. The women then attempted to re-enter the store, perhaps because they weren't satisfied with their first attempt at the Baby/Johnny lift. Barrientos was later arrested on a disorderly intoxication charge.
This story has me feeling pretty conflicted. Of course, on the one hand, it's never okay to cause a disturbance in a store and then try to re-enter said store. That being said, the amount of Dirty Dancing comedy gold that has come out of this is beyond joyful. I give you, the internet:
The real crime is that there's zero footage available of this moment online. Let's compensate by looking at some other successful Dirty Dancing reenactments that probably involved just a little less wine. Hellooooo shirtless Ryan Gosling lifting Emma Stone in the air while it's raining.
And, um, Jessica Biel has officially given Jennifer Grey a run for her money.
This is perhaps my favorite of them all. Eli Manning and Odell Beckham, Jr. should be dance partners forever and always.
And of course, we can't forget the original. Be still my 80's loving heart.
Basically, the moral of this story is that we all need someone to lift us in the air Patrick Swayze-style every once and awhile. We just need to do it in, like, a big park or the privacy of our living rooms. BRB…off to listen to "Hungry Eyes" on repeat for the rest of the day.