You Can Actually Have The Time Of Your Life At The 'Dirty Dancing' Resort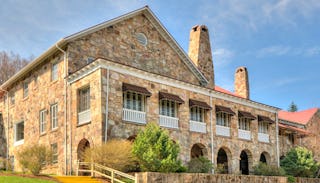 The "Dirty Dancing" Resort hosts themed weekends for superfans
As summer heats up and you're planning your annual vacation, run, don't walk, to your nearest computer and book a stay at the "Dirty Dancing" Resort. You'll have the time of your life, for real.
The Mountain Lake Lodge in Pembroke, Virginia, offers three themed weekends where visitors can see where Frances "Baby" Houseman (Jennifer Grey) meets, dances, and falls in love with Johnny Castle (Patrick Swayze). The stunning outdoor retreat is in the Blue Ridge Mountains, part of the Appalachian Mountain Range, and the center of a 2,600-acre nature preserve. On first glance, though, you'll likely think "Kellerman's!"
"Mountain Lake Lodge is Kellerman's," Heidi Stone, the hotel's general manager, told ABC News. "It is amazing how many thousands of 'Dirty Dancing' fans we meet every summer. We have guests from all over the world that come to Mountain Lake Lodge just for the Dirty Dancing Weekends." The themed weekends are definitely the way to go for superfans, though.
The vacation packages start at $330 per person for the weekend based on double occupancy, hotel officials shared. The perks sound pretty incredible for a "Dirty Dancing" devotee – eat in the dining room where Baby threw water on Robbie's face and see Virginia Cottage where Baby and her big sister stayed during their family summer vacation during the walking tour. The themed activities almost seem endless – a sock hop, a watermelon toss, trivia, a scavenger hunt, and a screening of the movie.
The fun doesn't stop there. Dance lessons and dance parties are also part of the "Dirty Dancing" weekend so you can finally relive your favorite scene. Not included is your own handsome dance instructor so you'll have to convince the hubs to come along. "It tends to be a popular 'girls' getaway' weekend, but we do see some husbands and boyfriends from time to time," Stone said. The resort also hosts weddings for the couple that just can't get enough "Dirty Dancing." Say "I do" in the Mountain Lake ballroom, barn, or pavilion.
You missed the June dates, but there are two more weekends coming up in July and August for 2016. So start practicing your favorite dance moves and don't forget to pack your white Keds. Once there, make sure to swing by the lake where Johnny practiced the lift from the now famous dance finale. And remember, nobody puts Baby in a corner.