Disney's Live Action 'Aladdin' Is Officially Getting A Sequel
by Christina Marfice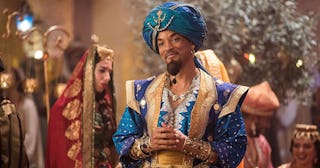 DIsney
A whole new world? It's certainly possible, when a sequel to Disney's live action Aladdin hits theaters
Aladdin was released last year after tons of hype, and let's just say it lived up to it all. It pretty closely followed the story of the original Disney animated classic, released in 1992, but had a few modern twists, including new music and a villain people were strangely rooting for.
It's still really early in the development stages for us to know much about the Aladdin sequel, but what we do know so far is that Disney is developing the new movie with writers John Gatins and Andrea Berloff, both Oscar-nominated writers, who have previously worked on projects like Flight, The Kitchen, and Power Rangers. According to Variety, the Disney execs behind the sequel have really taken their time finding the right path for a second film to take, accepting pitches from lots of different writers. After meeting with Gatins and Berloff, they decided to move forward with their ideas and a script is in progress. We just don't know yet what the story will look like.
The original animated Aladdin had two direct-to-video sequels, but Variety reports that the live action sequel won't follow those storylines and will be completely new and unique. It's also definitely going to have a theatrical release — it won't be straight to video, and it won't have its initial release on Disney+, like some people have speculated.
The fact that the Aladdin sequel is definitely going to theaters isn't too surprising, after the massive success of the remake last year. It became one of just four live-action adaptations to gross more than a billion dollars at the box office (the others are The Lion King, Beauty and the Beast, and Alice in Wonderland, in case you've ever wondered why Disney is leaning so hard into making live action versions of all its animated classic films).
As for who is coming back for the second film in this franchise? Some of the crew will be the same — Aladdin producers Dan Lin and Jonathan Eirich are producing the sequel, and executive producer Ryan Halprin is also returning. We don't know if Guy Ritchie, who directed the first movie, will be back for the second. And while studio execs have said they hope to bring back stars Will Smith, Mena Massoud and Naomi Scott, no offers will be made to actors until the script is finished.
While we've enjoyed Disney's live action remakes over the last few years, extending those universes with sequels is new, and we can't wait to see where this goes. In the meantime, you can watch both the live-action and animated versions of Aladdin (and much more!) on Disney+ for just $6.99/month. Sign up now for your 7-day free trial.
This article was originally published on