The New Disney Mickey Mouse Line For Coach Will Make Grown Women Squeal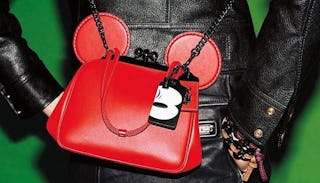 Disney and Coach collaborate on collection of purses, leather jackets, sneakers, and graphic tees
Hold on to your Mickey Mouse chair, Disney lovers, because we've got some big news for you. Two iconic American brands – Disney and Coach – have partnered to create a beautiful line of purses and accessories just in time for summer.
The limited-edition collection launches on June 17 and features Mickey Mouse designs on various leather goods from Coach. If you find yourself in New York or Paris you can gaze longingly at the array of Disney merch in person. Otherwise, you can grab your favorite find from the set online. The pieces range from playful to rebellious and will bring a smile to the faces of Disney fans.
The purses, totes, backpacks, and saddle bags have Coach's classic silhouettes but with a special Disney twist. If you're into Disney we're guessing you'll love this Mickey Mouse-themed purse. The line was just announced and people are already sharing their love for this bag online. "I'm not a designer purse kinda girl but I need this in my life," one commenter wrote.
If you like your accessories a bit more understated but want a Mickey twist, then you might love this tote.
This incredible leather jacket is for the devoted Disney fan that's also a bit edgy. "I've always seen Mickey as a playful rebel at heart and a timeless symbol of joy and creativity," Coach Creative Director Stuart Vevers told Refinery 29.
And here's a roundup of some of the other gems from the new line.
In preparation for its 75th anniversary, Coach is celebrating American pop culture with the Disney collaboration. "Mickey Mouse is one of my earliest memories of American pop — his nostalgic charm, cheekiness, individuality and inherent cool make for the ultimate American icon," Vevers said.
Prices for the pieces haven't been released yet, but they're likely to be in the $50-$600 range that is typical for Coach accessories and purses.
Whether you love a polished handbag or want to reconnect with your childhood, you won't want to miss the full collection release on June 17th.