This Coach Minnie Mouse Collection Is Making Grown Women Squeal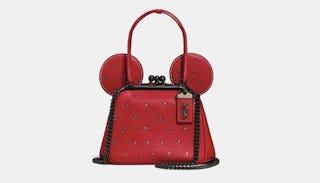 Image via Coach
It's impossible not to want one of these Disney-inspired Coach purses
Hold on to your mouse ears folks, Coach and Disney have teamed up to create a limited edition line of squeal-worthy purses, clutches, and accessories that will have your inner child jumping for joy.
The collection is quintessential Disney, with purses and clothes featuring both Mickey and Minnie Mouse in different patchwork and even as the shape of the bags themselves, showing off the infamous mouse ears. If you are even a little bit of a Disney fan (and who isn't a Coach fan), these bags will be hard to resist.
They are featuring the Minnie Mouse Kisslock Bag, which comes in both pink and red and has an adorable clasp closure. It also has a strap and a chain so you can carry it or sling it around your shoulder. It will set you back a cool $450 but its Coach and Minnie Mouse and can you really put a price tag on that?
Next up is the Dinky With Minnie Mouse Patches and it's so wee and adorable that you will have to stop yourself from buying more than one. Except that it's $495 so, yeah, that may stop you.
This isn't the first time the two brand giants have teamed up to create one-of-a-kind collections together. They released a summer collection to mark Coach's 75-year anniversary with a line of purses, saddlebags, and accessories that was to die for. It seems their most recent collaboration is no different.
This chic line also features a Crossbody Clutch With Minnie Mouse Patches that comes in both ivory and black. It's smaller $250 price tag may be even more appealing to Disney-loving, purse loving peeps.
If you are looking for something a little bigger (here's looking at you, moms, carrying enough food and toys in there to keep an entire kindergarten class entertained), check out the Rogue With Minnie Mouse Patches. According to the Coach site, this purse was "inspired by the iconic Minnie Mouse, this collaboration with the dream-makers at Disney combines her inimitable style with our all-American attitude."
Last but certainly not least, is a Minnie Mouse Coin Case that is sure to make all our hearts flutter. At just over five inches tall and only $75, it's not only the most affordable piece but omg look how cute and tiny it is I can't stand it.
They are completing the collection with wallets and keychains to round out your Disney dreams. Here's hoping they decide to make more because these puppies are selling out like hotcakes.
Disney and Coach — a match made in mouse leather heaven.