Disney Junior Is Giving Us The 'Muppet Babies' Reboot We All Need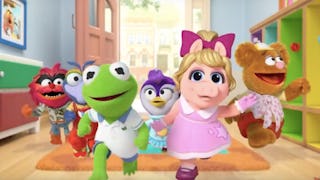 Image via YouTube/Disney Channel
'The Muppet Babies' is coming back and we are so here for it
If scratch and sniff stickers and jelly shoes were your jam, you might want to sit down. Jim Henson's cult classic, Muppet Babies, is making a comeback and kicking our nostalgia for All Things 80s into high gear.
The hit TV series is about to be introduced to a new generation of kids later this month when Disney Junior debuts the new animated series starring all our old favorites — Kermit the Frog, Miss Piggy, Fozzie Bear, Gonzo, and Animal (cross your fingers for a Beaker cameo).
The original version aired on CBS from 1984 to 1991 and was a must-see for kids of my generation. We grabbed a TV tray and some Mr.T cereal, turned on the tube, and enjoyed a Saturday morning for champions.
For those unfamiliar with the series, all the baby Muppets live in a nursery together and are watched over by Nanny, a character who is seen only from the shoulders down — known only by her trademark bold and fabulous striped tights. The babies play pretend games, which then become "real" adventures, all driven by their imagination and supervised under the watchful eye of Nanny. If you think Muppets are adorable, the baby versions are even more scrumptious.
In the new series, none other than Jenny Slate of Zootopia and Parks and Recreation fame has been cast to play the new Miss Nanny. "I was so excited when they asked me to be Miss Nanny," Slate said in a behind-the-scenes video. "I was excited in general to hear that the Muppet Babies were returning to television. I am a lifelong Muppet fan. I watched the original show as a kid."
If I have to watch cartoons with my kids, you can bet it will be shows like the Muppet Babies. No offense Max and Ruby, you are adorable — but not "Muppets adorable." The Muppets are cuter and funnier, and hell0…no one holds a candle to Jim Henson. No one.
The show is set to air on March 23 and will continue to be geared towards kids ages four to seven (or moms in their forties), and will feature two 11-minute segments. But if you can't wait that long, have no fear. Disney will be airing a new series of shorts, Muppet Babies: Show and Tell, beginning this week so folks can get re-acquainted with the characters, which are sure to melt hearts of a new generation.
Be sure to tune in and introduce your kids to the glory that is the Muppet Babies.
This article was originally published on