Disney's Doc McStuffins Features A 2-Mom Family And We're Here For It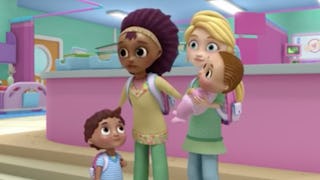 Image via Facebook
The episode depicts a family of four that includes two moms
A recent episode of Disney's preschool favorite "Doc McStuffins" featured a family with two moms. It's 2017 and all kinds of families exist, so it makes total sense for our children's TV shows to reflect — and celebrate — that fact.
The episode, titled "The Emergency Plan," stars the voices of Wanda Sykes and Portia de Rossi, both openly gay actresses, as the moms in a doll family separated from their two young kids after a dragon causes an earthquake in their house.
In an interview for GLAAD, Sykes explains the importance of the episode in celebrating same-sex couples for kids like her eight-year-old twins, Lucas Claude and Olivia Lou.
"I'm a fan of Doc McStuffins. My kids, they watch the show. With this episode, they see a family that looks like our family," she says. "We're two moms . . . it's going to be very exciting for them to see our family represented."
Sykes also points out how "Doc McStuffins" stands out in general when it comes to representation. "The diversity of the show, and having an African-American little girl be the star of the show, and also be a doctor, it sends a great message."
Aside from the chance to learn about and watch a family that might not look like their own, the episode offers helpful tips for emergency preparedness including finding an emergency meeting place and having a kit ready to take with them on a moment's notice.
The episode isn't the first time Disney has made an effort at normalizing same-sex relationships with an episode of "Good Luck Charlie" featuring a lesbian couple and "Star vs. the Force of Evil" including a same-sex kiss.
Doc McStuffins' creator Chris Nee tells GLAAD, "I always envision "Doc McStuffins" as a show about what it means to accept everyone as part of our communities. As part of a two-mom family, I'm proud to have an episode that reflects my son's world, and shows everyone that love is love in McStuffinsville."
It's hard to overstate the importance of inclusion and representation when it comes to kids seeing themselves and their families in the book, television and movie characters they look up to. For a child with two parents of the same sex, it's incredibly rare for them to see a family like theirs depicted in pop culture. Disney is doing a wonderful thing by making sure that happens, but there should be more choices overall. Hopefully, this is the start of that happening.
This article was originally published on