This Disney Dogs Collection Has Everything You And Your Furry BFF Need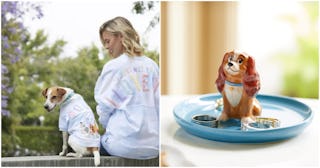 Disney/Oh My Disney
Disney Dogs are the stars of this new clothing and accessories line, and we need to buy it all
Disney fans already have a lot of choices if they want to literally wear their love for the classic movies and shows. I personally own about half of the vintage-inspired Disney line released at Target earlier this year, and from very grown-up jewelry to subtly character-inspired athletic shoes, there are a hundred different ways to wear your love directly on your sleeve (or both of them). But there's been something missing from the myriad of Disneyfied fashion choices we've been able to make: Dogs.
Until now, that is. The company's Oh My Disney line has released a new collection, and it's all about famous Disney dogs. From Lady to Max and of course the delightfully accurate golden retriever Dug from Up, you can now get clothes, accessories, trinkets, and stationery featuring the furry faces of your favorite Disney movies and shows. There are even accessories for your dogs, which, BRB, buying them all for every dog I might possibly own once I find an apartment where they're allowed.
If you're unable to choose which Disney Dog is your favorite, that's OK! This collection has tons of items for you. Check out these socks, which will allow you to rep a different dog almost every day of the week.
Or this stationery set, which has the message that is truly in all of our hearts.
Need somewhere to keep all your new dog stuff? This backpack is the perfect place.
One of the things we love about this collection is all the love for Max, the shaggy sheepdog from The Little Mermaid, who is finally getting his well-deserved time in the spotlight, two decades after he first livened up our TV screens with his antics.
He's featured on this adorable shirt that will have everyone knowing exactly how much you love dogs.
Or you can decorate with his happy, fluffy face by getting it on a throw pillow.
Or you can pay homage to Bolt with this coffee mug that has another message we'd like to display at the office every single day.
We love the collection's jewelry trays, too — one for Lady, and one for Dug.
If you want to get something for your dog, this collection has that base covered, too. How about these Disney dog balls to toss around next time you take your BFF to the dog park?
Or you could get your pooch a cute new collar that comes with a matching collar bracelet for humans.
If you want to go full crazy dog mom (or dad) on this, just go for the jersey with a matching dog-sized version. There is nothing wrong with coordinating outfits with your pet.
Basically, don't expect us to sit and stay right now. We're headed to the Oh My Disney site to buy all of this, and then we're hanging out with our dogs.