Disney Has Boozy Dole Whip Ice Cream Sandwiches Now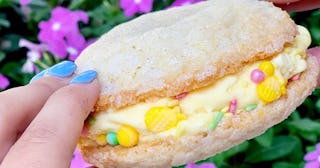 Disney Food Blog
A light, refreshing, boozy beverage is just what the Disney doctor ordered
Let's just cut to the chase here, shall we? Disney parks are, indeed, magical. They're wonderful venues that will leave you bankrupt but your children's dreams fulfilled, and they're also pretty fun for adults, too. That being said, the fact that many of the parks now serve adult beverages helps take the edge off a long, hot, Disney day. The latest refreshing, boozy beverages to hit the stands? A spiked Dole Whip cookie sandwich and a Dole Whip mimosa float. Not. Even. Kidding.
Dole Whips spiked with rum have been available in both Disneyworld and Disneyland for while, but both parks recently dipped into Dole Whip Froscatos. They're pre-mixed drinks with vodka, moscato wine, and the classic pineapple soft serve.
Now Disneyworld is introducing the FOMOsa, which isn't alcoholic but is a swirl of Dole Whip served over sparkling apple cider in a champagne flute, so there's that.
And yes, the "FOMO" part of FOMOsa is a nod to "Fear Of Missing Out," because you definitely don't want to miss this amazing Disney World treat. It costs $6 and is currently being served at the Sunshine Tree Terrace. It looks like it's already a big hit among customers. (And why wouldn't it be?)
The second delicious frozen treat making its Disney rounds is boozy. And a cookie. And ice cream. (Say no more, I know, I know.) It's called the Frozcato Sugar Cookie Sandwich and it's available at Wine Bar George in Disney Springs, Disneyworld. It's made with the Wine Bar's now-famous blend of pineapple, moscato, and vodka, and will be available all summer.
JUST LOOK AT IT.
It's got everything you could ever want in a refreshing, hot summer day treat! Booze, check. Cookies, check. Pineapple ice cream, check. Yummy little candy goodies used as decor, check.
The cookie sandwich costs $8, is available now, but there are limited quantities available each day. So yeah, you're gonna want to steer the whole family crew over yonder so you can get the frozen, alcoholic dessert you deserve early enough in the day.
It's officially summer and if you've already booked your Disney vacation, you've got even more to look forward to. We all need a delicious pick-me-up to get through those long, hot, exhausting-but-awesome park days.
This article was originally published on