Watch The Trailer For Disney's 'Dumbo' And Try Not To Completely Lose It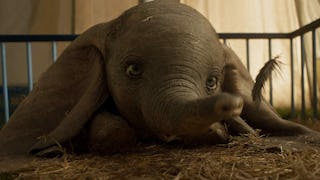 Image via IMDB
Prepare to feel All The Emotions after seeing the trailer for the live-action 'Dumbo' remake
It's almost as though every creator and executive at Disney got together and said, "How can we prove to every human that they're not dead inside?" and the result is the live-action version of Dumbo. Because if you have a beating heart, you're going to need many tissues before you sit down to watch this trailer.
While many of us adults are still traumatized from the sadness of the 'Baby Mine' scene we witnessed as kids, it's still worth the emotional rollercoaster ride of Tim Burton's take on everyone's favorite flying baby elephant.
A full-length trailer was just released for a new version of the Disney classic — and it is a doozy. The cast is star-studded, with Michael Keaton, Danny DeVito, Colin Farrell, Eva Green, and more. Though it appears Timothy, Dumbo's circus buddy in the original, has been…demoted? Maybe?
Burton's version uses some pretty amazing effects to show how Dumbo flies and revives an otherwise faltering circus. Farrell plays a former circus star who's hired to oversee the elephant with the oversized ears, and his children are the ones who first witness Dumbo's impressive aerial talent.
While Dumbo's clown makeup is enough to rip your heart out, the emotional kicker here is that the entire trailer is set to a haunting version of "Baby Mine," the song Dumbo's mother sings to him during an emotional, pivotal moment in the movie.
Whew, it's dusty in here already.
Naturally, the internet is in their feelings about this trailer (rightly so), with many people already convinced they won't be able to handle the emotions the full film will undoubtedly drown us with.
If you're not sure you're mentally prepared for this remake, you have almost five months to get yourself ready. Dumbo hits theaters on March 29, 2019.