This New Disney Kitchenware Collection Is Next-Level Adorable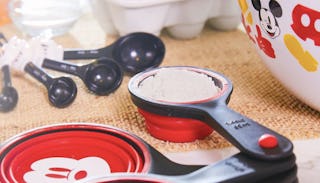 Image via Disney
Disney Eats collection calls to your inner chef
The most magical place on Earth is going to help you whip up some culinary creations with its new line of kitchenware. The Disney Eats collection has 36 adorable items perfect for the Mickey Mouse fan in all of us.
We've already told you about Disney princess wine glasses, Disney's Le Creuset cookware line, and the Disney houseware store, but this new line is for folks who love cooking, baking, and Mickey Mouse. From chef's hats for the kiddos to whisks and spatulas, there's something for everyone. Here are a few of our favorite pieces.
Start the day off right with some mouse-themed pancakes thanks to the Mickey Mouse Silicone Breakfast Mold Set. "This silicone breakfast mold set from Disney Eats makes it easy to create delectable shapes from eggs and pancake batter," our friends at Disney wrote. "It's a moust-have!" They even included a recipe for Mickey Mouse Blueberry Pancakes.
The Mickey and Minnie Mouse Sandwich Stamp and Crust Cutter Set is guaranteed to convince even the pickiest eater to try the sandwich mom made for them.
Especially when the little ones see their lunch packed in a Mickey or Minnie food storage container. "The leak-proof design features a flexible silicone tray and a snap-tight plastic lid to keep their food fresh, plus a handy built-in spork," Disney shared. There are also some great Spider-Man containers if he's the popular superhero in your house.
Can we please talk about these oven mitts and measuring cups? They're almost enough to make me want to bake something from scratch. Or at least pretend that someday I might.
And if you're looking for extra help around the kitchen, the Minnie Mouse Chef's Hat and Apron Set and the Mickey Mouse Apron and Hat Set are perfect for the budding chefs in your home. Even Disney said so: "Your little Mouseketeer will be excited to join you in the kitchen to make fa-mouse treats with this apron and hat set. With dimensional Mickey ears and a fun 'Hi!' apron, this set from Disney Eats makes cooking fun."
Don't fret, full-sized Disney addict, there's a special apron for adults, too. The Mickey Mouse Apron even comes with a matching set of oven mitts. "Be a fa-mouse chef in your own kitchen with this colorful Mickey-inspired set," the company said. "With an apron and glove-shaped oven mitts, making and baking magic will be easy."
There's actually tons of fun stuff for adults in the line like the Mickey Mouse spatulas, whisks, measuring cups, hand towels, mugs, oven mitts, and salt and pepper shakers. Check out the full line here, which is is available online now and will hit Disney stores on April 23.
This article was originally published on