Disney Employee's Reddit Tale Of How He Became Goofy Instantly Goes Viral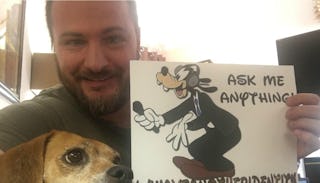 Image via Reddit.
A former Goofy shares a beautiful and tragic story from his time at Walt Disney World
After almost three decades at the most magical place on earth a former cast member hosted an Ask Me Anything on Reddit, and while all of his insider info was awesome, one story has brought the internet to tears. His post, I was Goofy at Walt Disney for over 20 years! AMA! shows what the real magic of Disney is: the heart behind the costumes.
The former Goofy answered a ton of questions, but one that stood out from the rest regarded his inspiration for becoming Goofy. He'd begun working for Disney 25 years ago, but started as a VIP tour guide, not a character.
"I have one moment that stands out above all the rest. It's the reason I left a good job as a VIP Tourguide and moved to the Character Department," the story starts out. He goes on to explain how he met two girls who became orphans in a freak accident. "The two girls were with their mom and dad at Epcot and on the way home they got into a horrible car accident," he explained. "The mother was beheaded right in front of them. The father eventually died too, but the two girls didn't know that yet." They were brought to the theme park by nurses who were attempting to return their Disney tickets so they could get the girls home. Both kids had broken bones and were covered in cuts and bruises from the car crash. One girl's injuries were so bad she was in a wheelchair.
"My heart absolutely sunk. They were truly traumatized," the former Goofy said. Not wanting to send them home right away he refunded their tickets then took them on a VIP tour. Having just survived an epic tragedy the girls were emotionally distraught. "I left them at the bridge to go change, walked backstage and bawled my eyes out," he said. But he didn't give up. After ice cream and rides, it was time for the parade. "It was there that I honestly saw true magic," the Disney guy shared. "Real magic, not bullshit."
Meeting the characters is the best part of a Disney day for any kid. And despite their debilitating loss, it was no different for these girls. The girls were traumatized from having been through the most horrific tragedy. But when they saw Mickey, some light got in.
"When Mickey's float came up Mickey managed to turn her body sideways, look down at the girls and point towards Main Street. That was all it took," he wrote. "They had forgotten about death. They were lost in a magical world, and I couldn't believe I was watching it unfold in front of my eyes." Then they spent almost two hours in Disney's VIP lounge (usually reserved for celebs) hanging with all of the characters. "I walked in with Mickey behind me, so I got to see the exact moment the girls met their new friend," he explained. After Mickey, the girls couldn't stop smiling and talking about the day.
The girls and their guide shared one more special moment. "When we walked by the rose garden, the older one said 'Oh, my mommy loves roses! I mean…' and she stopped," he explained. "I held out my hand and walked her to the gate, picked her up and put her on the other side and said 'Pick one!' She looked happy as she picked out her favorite rose. She didn't say anything more, and she didn't need to."
Despite loving his job as a tour guide, he was changed forever after his day with these little girls. He saw just what it was that brought Disney magic alive — the people behind the costumes.
"The true magic of Disney was in the character department. I auditioned, transferred and never looked back," he said. "It was a special day for me."