'To The Fairy Godmother I Didn't Know I Needed': Grieving Mom Thanks Woman In Heartbreaking Post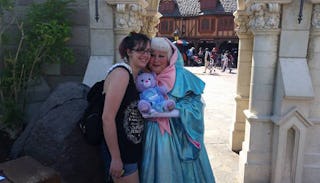 This grieving mom was soothed by a kind stranger at Disney World
The pain of losing a child never goes away, but a woman whose daughter passed away shortly after birth says she found unexpected comfort, thanks to a kind Disney World cast member dressed as Cinderella's Fairy Godmother.
Janice Murphy's daughter, Annaliese, died last month from complications related to a rare chromosomal disorder. Since then, the mom has been struggling to work through her grief. In a recent Facebook post, Murphy says she took a trip to Disney World and spent time crying over the things her little girl "will never experience," but a moving interaction with an actress dressed as a fairy godmother helped ease her pain.
Murphy writes that she was carrying a purple teddy bear containing her daughter's ashes when she met the "Fairy Godmother I didn't know I needed." She says the character actress had no idea of the significance of the bear, but when she found out about Annaliese, she showered the stuffed animal with love like she would any other baby. Writes Murphy:
"Despite your utter lack of knowledge, you included the bear in our interaction. And when you found out that my daughter died, and that her ashes are within the bear, you treated her the same way you treat every child that comes to see you every single day: with love, compassion and kindness. When you hugged her, and kissed her cheek, you made me feel like Analiese mattered to you."
Murphy says even though the actress may never see her Facebook post, she will always remember "how you hugged and loved on my daughter as if she was like any other child." She continues, "You helped me feel her spirit in a place she was never able to visit while alive. Thank you thank you thank you."
Since Murphy's post went up, it's been shared over 31,000 times. Murphy says it was important to her to share her story because so many people avoid the subject of loss. She tells News6, "No one wants to talk about the miscarriage, no one wants to talk about the stillbirth, or the 38 week 'I'm sorry we can't find a heartbeat.' No one wants to talk about 'Your baby only lived for 85 minutes. I'm sorry.' They want to pretend it didn't happen because it's hard."
It's difficult to know how to comfort people through times of grief and how to talk about the things that scare us, challenge us, and leave us unsure of what to say. But, as this real-life fairy godmother showed, the best thing we can do is let people know we care — that their pain matters to us, and that their children matter too. Our compassion, love, and kindness is a million times more comforting and helpful than silence.
This "Fairy Godmother" acknowledged Murphy's daughter — acknowledged her presence and the importance of her life — and Murphy says, as a grieving mom, that's what she wishes for most of all. "Everyone says WAS. She WAS beautiful, she WAS strong, and it's not past tense for me," Murphy tells News6. "It's present. And the fact that she treated her in present tense meant the world, and I don't have words to thank her."
This article was originally published on