'Frozen' Fans Want Elsa To Have A Girlfriend, And Why The Heck Not?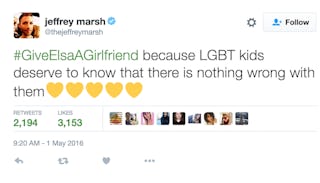 Frozen fans are tweeting at Disney to #GiveElsaAGirlfriend
Three years ago, Disney's Frozen took the world by storm and showed us the meaning of sisterly love. Now, for the planned sequel to the mega hit, fans are demanding Queen Elsa get a chance at romantic love by meeting her very own Princess Charming.
Over the weekend, activist Alexis Isabel Moncada started the hashtag Give Elsa A Girlfriend, hoping to persuade Disney to leave their heteronormative tradition behind and give kids their very first LGBT princess.
In an essay for MTV, Isabel says she started the hashtag because she was inspired by the lack of LGBT representation in the books, movies, and shows she had access to growing up. She pointed out that many in the LGBT community saw Frozen as a metaphor for coming out and self-acceptance, and said she wants kids to have a positive representation of a queer relationship. "I never saw a princess fall in love with another princess — and neither have girls growing up right now," she writes.
Moncada's hashtag quickly went viral, accumulating thousands of inspiring tweets from people who agree that Queen Elsa having a girlfriend could be a real game changer. One person even drew their own idea for who Elsa's girlfriend should be — a fire princess, of course.
The response on Twitter and elsewhere has been pretty positive, and that's good because it is about time for companies like Disney to get serious about LGBT representation. Not only is it important for kids to see healthy depictions of all kinds of relationships, but giving Elsa a girlfriend would also be a huge step in empowering LGBT kids and letting them know that they're loved and accepted for who they are.
According to the Youth Suicide Prevention Program, about 4.5 percent of youth identify as LGBT, and an additional 4.5 percent identify as questioning. LGBT youth are more likely to suffer from depression, bullying, and have suicidal thoughts. These kids need representation, they need people and characters they can look up to, and they need to know they have the support of people around them.
Whether Elsa ends up with a girlfriend or not, this is an important campaign that calls for equal representation of different kinds of lifestyles, and it's an important conversation for us to have. Kids can be taught love and acceptance from early ages. There's no reason certain kinds of love should be excluded.
This article was originally published on