Disney's New Gingerbread Ears And Holiday Merch Will Turn You Into A Believer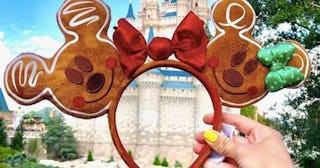 DisneyFoodBlog
Disney Parks are now stocked with seasonal 2019 Christmas merch, which includes a pair of adorable gingerbread ears
There are two kinds of people in the world: Those who wear mouse ears at Disney Parks, and those who do not. After laying eyes on Disney's new Gingerbread Minnie Ears, we guarantee you'll turn into the former. This week Disney has been rolling out all sorts of holiday merch across the parks, from ears to ugly Christmas sweaters to retro-chic tumblers, but it's the tasty little ears that have us feeling some type of way.
Spotted by Disney Food Blog, the ears feature a gingerbread Minnie and Mickey accented with a hard candy "bow." At first, we thought the ears were actual gingerbread and that this was a new Disney treat shaped to look like a pair of ears and not the other way around.
If gingerbread isn't your thing, the rest of the holiday ears collection includes a pair of plaid, fuzzy fleece ears, and a red, white, and green-sequined peppermint pair. All Holiday Minnie Ears are $29.99.
Outside of Minnie Ears, there are shirts, socks, PJs, mugs, and merch galore. How about a festive long-sleeved tee covered in images of iconic Disney snacks?
What about an Ugly Mickey Sweater ($64.99) that actually lights up with red and green lights?
This Peppermint Shirt ($39.99) is sparkly and sweet, but still cool for the Disney enthusiast who is also a minimalist.
The Snowman Tumbler ($24.99) is too damn cute and features a snowman wearing his own Mickey cap. Plus, the tumbler itself lights up from green to red.
Check out Disney Food Blog for more festive holiday goodies in the collection.
If the red and green is too, I dunno, on-brand for you, Disney also rolled out a retro Christmas set that feels like something that would fit right at home in the Carousel of Progress in Tomorrowland (shoutout to a mostly-defunct '50s Disney attraction!).
The Holiday Cheer Towel ($14.99) is perfect for cleanup after glazing a ham or making some other Christmas food from the '50s (jello mold?).
Store your toothpicks for the Christmas cheese platter in these festive and retro Holiday Cheer Toothpick Holders ($17.99).
You can buy all these cute finds right now at any Disney Park. Brb, while we hop on a plane to get some Gingerbread Minnie Ears.