Disney Honors 22-Year-Old Ticket, Woman Gets To Have The Fun Her Little-Girl Self Missed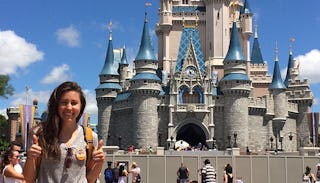 Disney honors 22-year-old ticket that a girl's dad saved all those years
Thanks to a thoughtful father and kind theme park officials, one woman was able to make her childhood dreams a reality when Disney honored her 22-year-old ticket.
Chelsea Herline's parents had a timeshare in Orlando and would often take their three daughters to Disney World. On one such trip, she got sick and missed the last day of fun at the happiest place on earth. "I would always get sick at the most un-ideal times when I was little, so my parents are great for always taking care of me," Herline told Scary Mommy. Her mom took the 4-year-old to the doctor while her dad took her sisters to Disney that day.
Herline's parents are also to thank for her most trip to the park using her ticket from all those years ago. "We have always made fun of my dad for taking millions of photos and videos of every moment of our lives and saving little things from when we were little," she explained. "This … is basically my Dad's dream – for something he saved for so long to pay off. I'm lucky that he didn't throw it away years ago!"
Her four-day pass had only been used three times, but since it was so old Herline readied herself for negotiations. "I was prepared to have to convince them to let me in when I walked up to the ticket counter," she recounted. "But was so surprised when they so easily let me use the ticket!" Park employees also gave her a special pin to commemorate the visit. Herline said it was hilarious to wear it around all day since she was alone.
Lack of guests didn't stop her from enjoying all the magic she loved as a kid. Her family would tease her fall falling asleep on the "It's a Small World" ride. "I went back to that ride to tell my parents I made it all of the way through," Herline shared. The highlight may have been meeting Chip and Dale again. "The first time I met them, I freaked out and broke out in tears," she sid. "So of course when I saw them at Disney this time around I had to take a picture with them."
While the latest visit was fantastic, Herline was able to see the park through her parents' eyes. "I now give my parents so much credit for navigating the crowds and chaos with three young kids," she said while adding, "Disney does a great job of making it feel magical no matter what age you are."
This article was originally published on