Disney Unveils New All-Pink Menu And Everything's Almost Too Pretty To Eat
by Madison Vanderberg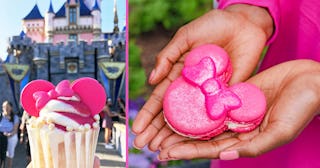 disneyfoodblog/Disney Parks Blog
Disney unveiled the Imagination Pink dessert and drink menu just in time for summer
In honor of Minnie Mouse's favorite color, Disney World and Disneyland are having a pink moment. Disney has ushered in summer with all-pink-everything as part of their Imagination Pink celebration and since the parks already sell a whole bunch of hot pink merch (you might've seen those sparkly pink mouse ears all over social media lately), Disney has moved on to embracing hot-pink food and drinks.
There are a dozen delightful pink treats available across all the Disney parks and resorts (you can check the full guide here), but here's a handful of our favorites and where you can find them this summer.
Walt Disney World
The Pretty In Pink Strawberry Tart is a strawberry flavored tart dressed up in an edible old-school Disney ear cap — you can find it in all of Disney's All-Star Resorts.
The Imagination Pink Piñata is a chocolate Minnie Mouse head (complete with hot pink ears) and filled with vanilla bean marshmallows and crispy pearls. You can find this (along with the summer berry ganache squares) at the Ganachery over at Disney Springs.
Over at Amorette's Patisserie at Disney Springs, you can get a chocolate covered strawberry made to look like a rose and live out your Beauty and the Beast fantasy while tossing back a glass of pink champagne topped with edible Minnie Mouse ears.
Two resorts at Walt Disney World (Disney's Pop Century Resort and Disney's Art of Animation Resort) offer the incredibly photogenic Hot Pink Cupcake, which is a yellow cupcake with guava filling topped with cream cheese buttercream and chocolate mouse ears. Yum!
You can also find this other strawberry cupcake topped with vanilla buttercream icing and pink sprinkles at the Contempo Café at Disney's Contemporary Resort.
This vanilla confetti cupcake with raspberry cheesecake filling, raspberry buttercream, and pink sparkly chocolate mouse ears is available at both Disney's Caribbean Beach Resort and Disney's Port Orleans Resort.
If dessert isn't your thing, you can pick up an Imagination Pink Cocktail at Dockside Margaritas at Disney Springs. Though the drink is bright pink, it's made from pineapple juice, coconut rum, peach schnapps, and sweet and sour. Bring. It. On.
Disneyland
West Coast Disney fans relax, because Disneyland's Jolly Holiday Bakery Cafe has an equally sweet pink cupcake made from pound cake with raspberry marmalade filling and raspberry buttercream swirl frosting.
You can find the Imagination Pink Cakepop (vanilla cake pop with white chocolate ears doused in pink chocolate and edible gold glitter) at both SoCal Disney Parks and Downtown Disney.
Both SoCal Disney parks also sell the Minnie Macaron, which is exactly what it sounds like and tastes like vanilla and Amarena cherry.
Book a flight asap because the Imagination Pink food celebration is only here for the summer.