Disney's Jasmine Subscription Box Is Here And Your Kid's Going To Want It
by Thea Glassman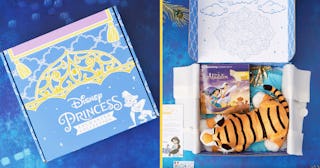 Disney
Disney added an adorable Jasmine subscription box to their collection
Is your household in desperate need of some Disney magic? The correct answer to that question is always yes. Head to ShopDisney where you can order a Jasmine-themed subscription box that's packed with so, so many cute goodies.
Alright, let's hop on our magic carpets and take a tour.
First things first, the box will arrive in your mailbox every other month for one year and you can customize how long you'd like the subscription (either box to box or six months or one year). Each will be brimming with princess gifts. The basic box starts at $48 and features a read-along storybook with a CD, a turquoise Jasmine costume, stickers, and a video message plus a letter from Jasmine herself.
So, so cute.
Look at the detailing.
There's also a deluxe box which starts at $74.99 and is jam-packed with Jasmine-themed delightfulness. It comes with all of the goodies listed above, along with more Disney toys like a stuffed tiger. Also, Disney noted that the "imaginative princess stories and empowering activities promote family togetherness" and we can all get on-board for that (especially if we get to play the Aladdin soundtrack on loop).
Look at Rajah, you guys. He needs snuggles immediately.
That's not all. If your kid loves all of the Disney princesses equally and doesn't want to pick a favorite, you can customize the boxes to feature different characters. This May and June, the options are Jasmine, Ariel, and Moana, PopSugar reports.
All of the subscription services are packed with an equal amount of Disney magic and each feature a regular box and a deluxe box. If you want an overload of canary yellow prettiness, take a look at the Belle one. It comes with a pretty exact mini replica of her ball gown along with a rose, a little crown, an orb and Chip the tea cup (because it's not a Beauty and the Beast gift box without Chip the tea cup).
The Ariel box is also pretty, pretty dreamy and filled with so much sea foam cuteness. Say hi to a teeny tiny Flounder backpack and a snow globe featuring the underground kingdom (Ursula thankfully not included).
And, yes, the kids look just as cute in these Disney get-ups as you'd hope and expect that they would.
https://www.instagram.com/p/Braakv7Ahhc/
https://www.instagram.com/p/BwqBU5Tgk0_/
Your house just got a massive serving of Disney magic and I promise nobody is going to complain. It's a whole new world, after all.
This article was originally published on