There's A Disney Fine Jewelry Line For Adults And It's Pure Magic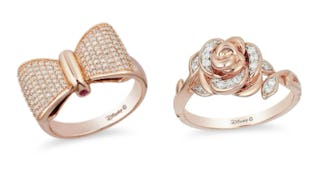 Images via Zales
These Disney inspired jewelry pieces will make you feel like royalty
If you never turn down an invitation to a princess tea party in the playroom and still find yourself practicing Ariel's signature hair flip every time you're in the pool (guilty), prepare to let out your best princess gasp. There's a new Disney-inspired jewelry line that's full of gorgeous baubles, and we didn't even have to ask a fairy godmother to make these pretty pieces happen.
The Enchanted Disney collection from Zales has rings, necklaces, and earrings themed to our favorite Disney princesses and characters to help you feel like the royalty you are all day every day.
This ring ($299) is perfect for those of us who don't feel fully dressed without a tiara.
If you're a Disney Mom who's always counting down the days until you're "home" again, this key necklace ($199) was made for you.
These rose gold rose earrings ($499) are gorgeous. Plus, unlike fresh blooms or that cursed one the Beast had, these will last forever.
Forget the pixie dust. A ring inspired by Tinkerbell ($299) is its own happy thought.
Unless your name is Snow White, an apple a day is good for your health, especially when it's formed by diamonds ($399).
This Rapunzel-themed stunner of a ring ($3,000) looks like something straight out of a fairy tale.
Cleans all day long. Never hears the words "Thank you." Has nothing to wear for a night out. Raise your hand if you feel like Cinderella. We may not meet a fairy godmother than can fix all our problems, but we can wear this gorgeous necklace ($1,300).
Or if shoes are your first and forever love, these glass slipper studs ($299) may be what your heart's been dreaming of.
Because every queen deserves a crown ($800).
You don't have to sing "Let It Go" every time you wear this necklace ($299), but no judgement if you do.
If reading all the books, shutting down pompous dudebros, and crushing on men with beards sounds like you, this ring ($499) will complete your transformation into a modern day Belle.
Tinkerbell may be little, but she takes crap from no one. This pendant ($299) is a pretty way to let people know that you're not one to be pushed around.
This bow statement ring ($1,500) shows your love for all things Disney without Mickey ears getting involved.
The collection even has options for the Prince Charming ($1,400) in your life.
Unless you've got a genie in a lamp, the jewelry's a splurge for sure. But if bling and Disney princesses are your jam, you can start dropping hints now so there's time to plan for your birthday, holiday, or anniversary gift. Wishing on a star couldn't hurt either.
This article was originally published on