Disney Drops Official Trailer For 'Jungle Cruise' Movie
by Christina Marfice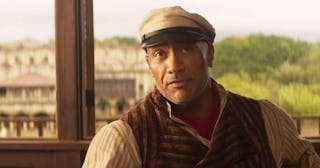 Walt Disney Studios/Youtube
Disney's new live action Jungle Cruise looks just as fun as the ride it's based on
Not to disparage Disney, but the media giant has really been leaning hard into remakes lately. Don't get me wrong — I loved the live action adaptations of Aladdin and The Lion King. Just, after a while, you start to wish for some new content, especially knowing the kind of magic Disney is capable of creating. Well, that wish was granted today, when the official trailer for Disney's upcoming live action movie, Jungle Cruise, finally dropped.
This is a movie based not on a previously released cartoon version of a movie, but on a classic ride from the Disney Parks (kind of like when Pirates of the Caribbean was made into a movie franchise). There are people out there who scoff at rides like the Jungle Cruise, saying it's cheesy and too low on thrills, but I heartily disagree. It's absolutely one of my favorite rides in the parks, and this trailer is making me look forward to the movie adaptation even more.
The Jungle Cruise movie will star Emily Blunt and The Rock, and before we even get into any plot details, I just want to say that these two are an on-screen dream team. I would go to just about anything that stars the two of them in leading roles.
According to the new trailer, Blunt appears to be playing some kind of doctor, who has hired The Rock, a boat captain, to guide her on a jungle cruise down the Amazon river in search of a tree that, according to legend, has mystical healing powers. It turns out The Rock's character has spent his life looking for this tree, and he's convinced it doesn't exist. Blunt's character, however, has discovered a missing key that could help them actually find it.
Of course, they're not the only ones looking. Blunt warns that the tree's healing powers could be used for evil if they fell into the wrong hands, and there are plenty of scenes showing these two trying to outrun the bad guys.
There are also jokes that are throwbacks to the classic Jungle Cruise ride, like when The Rock suggests, "Let's do something safe. Let's go see some elephants!" and Blunt replies, "There are no elephants in the Amazon!" Anyone who has been on the ride will likely chuckle at that.
The Rock has been hyping the film on Insta for months, and is pretty pumped for people to finally see what he and Blunt have been working on.
Their chemistry as buddies is adorable and will surely help make the movie even more fun to watch.
Disney's Jungle Cruise is set to hit theaters July 24.
This article was originally published on