Disney Is Laying Off 28,000 Employees To Deal With Pandemic Hit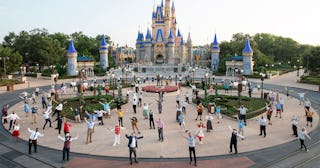 David Roark/Walt Disney World Resort/Getty
Disney parks workers who have been furloughed for months are now being laid off, the company announced this week
Arguably, the industries hit hardest by the coronavirus pandemic have been hospitality and tourism. Too many people are afraid to get on planes, to eat at restaurants, and to stay in hotels — and for good reason. But as the pandemic has hammered its resort and theme park businesses, Disney just announced that it will be laying off 28,000 employees, most of them workers at its two U.S. theme parks.
Disney parks in the U.S. employ more than 100,000 people. The company said around two-thirds of those being laid off will be part-time, hourly workers, but that salaried workers won't be fully immune from cuts. Popular entertainers from the company's Florida resorts have already announced that they are among those being laid off, including Yehaa Bob, who has performed at the Port Orleans Resort for 23 years. Bob announced on Facebook that he had done his final show.
Many other popular performers have been cut, including the Grand Floridian Society Orchestra and the Polynesian dancers at the Disney Polynesian Hotel.
Disney Parks Chairman Josh D'Amaro said the company was forced to cut staff because of the "prolonged impact" of the pandemic. Both U.S. parks were closed in March, and while Walt Disney World in Florida was able to reopen in July, it hasn't seen the large crowds that were expected. Disneyland in California remains closed.
"As difficult as this decision is today, we believe that the steps we are taking will enable us to emerge a more effective and efficient operation when we return to normal," D'Amaro said in a statement, adding that staff members have "been key to our success, playing a valued and important role in delivering a world-class experience."
"We look forward to providing opportunities where we can for them to return," he added.
D'Amero also placed partial blame on the state of California for its "unwillingness to lift restrictions that would allow Disneyland to reopen" in the middle of a global health emergency. We can't say we agree with that logic, and even though Disney's revenue tumbled 91 percent during the first quarter of 2020, the companies executives say there's still plenty of cash to withstand the pandemic.
"We are confident in our ability to withstand this disruption and emerge from it in a strong position," CEO Bob Chapek said in an SEC filing earlier this year. If that's the case, we just wish Disney would take care of its employees and not rush to open theme parks where a deadly disease might spread.