If You're A Die-Hard Disney Mom, Then This Might Be The Job For You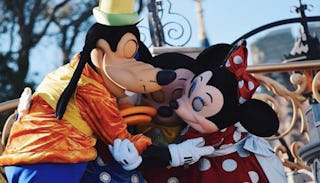 Image via Instagram/Disney World
Calling all Disney Moms — this panel of perks sounds amazing
Are you a die-hard Disney mom who knows every single snack on the menu at Be Our Guest restaurant? Have you eaten your fair share of Dole Whips and rode Splash Mountain more times than you'd care to admit? Well, you just might be the perfect candidate for the Disney Moms Panel, a group of Disney experts who get an all expenses paid (!) trip to the amusement park.
Have your Mickey Mouse headband ears officially perked up? Read on, my Disney-loving friend.
Disney Moms Panel is an online forum for guests to ask all their amusement park questions. Behind the keyboard is a Disney expert, who gives out personalized tips based on their own experiences. So, that's where you come in.
Disney is currently recruiting moms who are super knowledgeable on all things Space Mountain and churros. In order to be considered, applicants need to be 18+, have access to a computer/internet connection, gone to Disney World in the past 12 months, and have the time to answer around 10-20 questions per week. Oh, and you also need to be a "stickler when it comes to grammar, spelling and punctuation."
Applications will be accepted between Sept. 5 – 12, so start brushing up on your Minnie/Mickey knowledge ASAP.
Now, onto the fun stuff. If you do become a member of the Disney Moms Panel, you're entitled to a free trip to Disney World without the family for a training session. But don't worry, you'll also get another all-expenses-paid trip for you and three family members, so your children won't harbor an entire lifetime of resentment.
Even though it's called a "mom panel," this opportunity is completely open Disney dads as well as Disney moms, and any person of any gender who is over the age of 18. So, if you know a dad who feels all the ~feelings~ when he stands in front of the Magic Kingdom, pass this link along immediately.
"We understand that the role of 'mom' is met differently from family to family, so we made sure to fill our panel with enthusiastic, dedicated and diverse individuals—moms, dads and others in the know family members—to help guide you with your vacation planning," the site notes. "Each panelist was selected due to their undeniable passion for Disney vacations and their knowledge about a specific Disney vacation destination."
Now, go get that application in and send us all a postcard when you're happily hanging in Toy Land, covered in powdered sugar.
This article was originally published on