These Disney Ornaments Will Make Your Tree Extra Magical This Year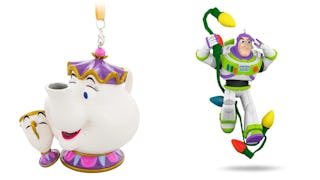 Image via Walmart
Your tree needs some Disney magic and these ornaments are here to help
We're getting down to crunch time before Christmas and your tree needs all the attention right now. If you want to add an extra boost of holiday cheer, I'd like to point you immediately in the direction of these Disney ornaments. Because even the biggest grinch can't say no to a very cute Winnie the Pooh figurine.
Looks like Pooh went to town on some honey, and who can really blame him? The holidays are about eating all the sweets, all the time.
You've got a friend in Buzz when you hang him from your Christmas tree. Bonus points that he's already covered in colorful lights.
You know you'll want to build a snowman when you hang this Olaf ornament on your tree.
And, I mean, you can't put Olaf on your tree and not have Elsa there to keep him company.
You're more than welcome to sing "Be Our Guest" at the top of your lungs as you decorate the tree this year. Your family will just have to deal with it.
This Christmas, you should go ~under the sea~ with an Ariel and Flounder ornament. And, yes, if you choose to buy this then it becomes socially acceptable to listen to the entire Little Mermaid soundtrack on repeat, all of Christmas day.
If you clap really, really hard, maybe this figurine of Tinker Bell will come to life. If not, at least you've got a glittery new ornament out of the deal.
Snag this Tangled ornament and you'll want to release ALL of the lanterns while belting out "When Will My Life Begin."
Hang Chip 'n Dale from your Christmas tree and maybe toast some s'mores of your own (slash just buy some chocolate and marshmallows and go to town).
Is there anything cuter than this little Pinocchio, with Jiminy Cricket resting on his shoe? All that's missing is Geppetto and the Blue Fairy.
Prepare to experience an outpouring of pure ~magic~ after you hang up these ornaments. Now all you need is a 24/7 Disney marathon on Christmas day (don't worry, no one will complain).
We are a participant in the Walmart.com Affiliate Program and may earn fees by linking to Walmart.com and affiliated sites.
This article was originally published on