Disney Parks Are Getting More Than 400 Vegan And Plant-Based Dishes
by Christina Marfice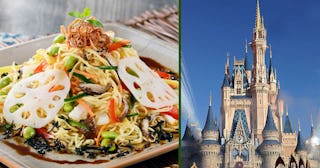 Disney and Mark Ashman/Disney Parks/Getty
Disney parks are about to offer a ton of plant-based meal options, and it's about time
If there's one thing that my friends know about me (and that new friends/first dates tend to learn very early on), it's that I love Disney parks. In fact, I have a goal to visit every park in the world. As of now, I only have Paris and Shanghai left to go.
But while my love for all the happiest places on Earth has all the force of a great typhoon, I have long had one big complaint about the parks (and theme parks in general): Their food. That's about to change, though, as the Disney parks are about to offer a whole lot of veggie-based options this year. Four-hundred of them, to be exact.
https://www.instagram.com/p/BwT8M-uAq0x/
While Disney definitely provides a more elevated theme park experience that does extend to its food, with a wider variety of meals available from quick-service to sit-down, it's still park food. A lot of it is meant to cater to kids. A huge portion of it is fried. A lot of it is greasy. When I visited Tokyo's parks earlier this year, I remember almost dissolving into tears when I managed to find a salad, because my craving for fresh vegetables was so strong after just two days eating park food. And I know I'm not alone in this. Anyone who eats any semblance of a healthy diet will likely have a hard time with the greasy, meat-heavy, carb-loaded offerings at theme parks (though that is not to say we don't enjoy them, as evidenced in the photos below).
https://www.instagram.com/p/BwdlmvkA8X4/
Finally, though, Disney is addressing this. The company just announced the rollout of a new vegan menu that will hit its two American parks in the next year. And what's even better is that it will include a whopping 400 plant-based dishes for park visitors to enjoy.
The new menus will be rolled out at Walt Disney World in just a few days, on Oct. 1, and Disneyland Resort in the spring. We've only seen a few sneak previews of the menu items that are coming, but TBH, everything looks delicious. Like, check out these fancy flautas filled with potato puree and topped with spicy soy chorizo.
And this cold noodle salad with tons of veggies looks absolutely refreshing for a light lunch on a hot, humid day in Florida.
This Shiriki noodle salad is also packed full of veggies and tossed with sweet chili sauce.
An herby hummus topped with tomato-and-cucumber salsa and served with pita would make an excellent snack for powering through those afternoon hours when you're hot and your feet are starting to ache a little, unlike, say, a giant turkey leg which all but guarantees you'll be heading back to the hotel for a nap.
I, for one, am excited to try this spicy chili tofu bowl, which comes topped with boba, an ingredient I've only ever had in tea and never on food.
And since this is vacation and you're supposed to indulge a little, you can get a dairy-free cashew cheesecake topped with chocolate sauce. My stomach is rumbling like Pooh's when he sees a honey pot.
While these menu items are fantastic for those who do stick to a plant-based diet, making it easier for all people to enjoy Disney parks, they're also reason for celebration for the rest of us who need more than churros and cheeseburgers to fuel multi-day park visits. Now it's just time to plan the next park vacay so we can try them all out.
This article was originally published on