Disney Releases Official 'Soul' Trailer And It's Everything We Need In 2020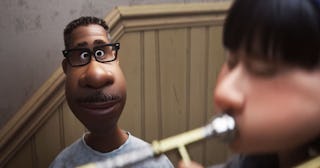 Disney+
Disney and Pixar have released an inspiring trailer for the upcoming movie Soul
As the coronavirus pandemic continues to surge and the tension surrounding the upcoming election increases by the day, what the world needs now is "love, sweet love." Maybe this is why we are so eagerly awaiting the release of Disney Pixar's upcoming film, Soul, set to release on Disney+ on Christmas Day, which literally feels like it is going to provide chicken soup for the soul, pun intended. On Thursday, Disney released the official trailer for the film, giving us a glimpse into the plot of the film and a tease of just how amazing it is going to be.
"Life is full of possibilities," is the tagline of the trailer, a much needed reminder during such a dark time. We are introduced to Joe Gardner, voiced by Jamie Foxx, a middle school teacher who dreams of becoming a jazz performer.
"Music is all I think about. From the moment I wake up in the morning to the moment I fall asleep at night. I was born to play. It's my reason for living," Joe explains.
Before he can achieve his big break, an accident causes his soul to separate from his body where he's taken to The Great Before – a fantastical place where new souls are gathered together and given their own unique "personalities, quirks, and interests" before being sent to earth.
Joe then meets Soul 22, Tina Fey. "Don't worry," she tells him. "You can't crush a soul here. That's what earth is for."
She then embarks "on the journey of a lifetime" with him in hopes of reuniting his soul with his body.
The trailer is full of so many inspiring phrases, such as "Life is full of possibilities, you just need to know where to look" and "Don't miss out on the joys of life," things we need to repeat to ourselves every single day.
"Get ready, your life is about to start," Foxx promises at the end.
The film is getting rave reviews from across the world, currently boasting a 100 percent score on Rotten Tomatoes.
Jason Solomons of The Wrap wrote: "Soul is perhaps the most existentially ambitious film ever attempted by Disney and yet it pops with colorful visuals and gentle wisdom while the story clips along despite the dizzying height of the concept."
"It's a vintage mix of the company's intricate storytelling, complex emotional intelligence, technical prowess and cerebral whimsy on dexamethasone," added The Hollywood Reporter's Leslie Felperin.
While waiting until December 25 feels like a painfully long time, Soul might be the most perfect holiday movie to share with your family in light of 2020.