Here Are All The Details About Disney's New Streaming Service
by Christina Marfice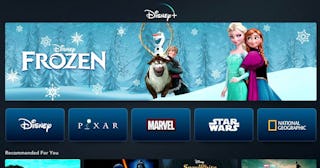 Image via Disney
Disney just released price, launch date and other details about its much anticipated new streaming service
Ever since Disney announced it was getting into the streaming game, we've been eagerly awaiting details about Disney+, the media company's answer to sites like Netflix and Apple TV. Finally, at Disney's 2019 Investor Day in Burbank, California, executives gave us some of the answers we've been not-so-patiently waiting for.
First, and probably the thing we've been most anxious to hear about, is the price point. Disney CEO Bob Iger revealed at the meeting on Thursday that the streaming service will be available for just $6.99 a month, and U.S. subscribers can also get an annual plan for $69.99 per year, which works out to around $5.83 per month. That means Disney's streaming service is going to be one of the most affordable ones on the market, and that makes it basically a no-brainer for families (and single 20-somethings, not that I would know).
When asked why the streaming service was priced so much lower than its competitors, Iger said, "This is our first serious foray in this space, and we want to reach as many people as possible with it." That does sound a little bit like the price might go up later, but that's just a good reason not to wait to sign up, right?
The next important bit of info we've been waiting for is when Disney+ is going to launch. And get excited, because we have a date. The streaming service will officially go online in the U.S. on Nov. 12, 2019. It is just months away.
Following the U.S. launch, Disney hopes to offer the service worldwide within a couple of years. So if you're outside of North America, you may have to wait just a little bit longer.
It was previously revealed that Disney's entire catalogue would be available to stream. But we now know that at launch, the streaming site will offer 7,500 episodes of current and off-air TV shows, 25 original series, 10 original movies, 400 library movies and 100 recent theatrical films. That includes the classics, plus Marvel, Star Wars, Pixar, NatGeo and everything offered by 20th Century Fox, which the Mouse House recently acquired. Basically, while Disney's streaming service is a little more limited than some others, it sounds like it will offer plenty of variety, and especially at the price point it's going to be offered at. It's a good value.
The last bit of exciting news Iger announced at the meeting is Disney's plans to create original content just for its streaming service. It sounds like it will be pretty aggressive about making original online movies and shows, and the company plans to spend $1 billion in cash on original programming for Disney+ in 2020 alone. That's good news, since it'll keep content on the site fresh, and make having a subscription worth it for months and years to come.
We didn't really need to be sold on Disney+, but it's nice to finally have some details. And with all of this now public knowledge, we're even more excited to sign up.