Disney+ Is Warning Users About 'Outdated Cultural Depictions' In Their Old Movies
by Christina Marfice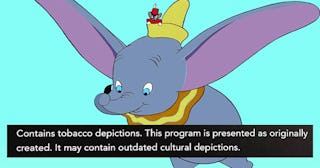 Disney/Disney +
If you've played Dumbo on Disney Plus, you may have noticed a disclaimer about some of their older content
While most people associate Disney with childhood cartoons that are nostalgic and totally innocent, there are some aspects that don't mesh with modern times. There are some movies in Walt's catalog that reflect the time in which they were made — and if that time was the early 1900s, that probably includes the sort of stereotyping, discrimination, and outright racism that was not only common, but considered acceptable at the time.
There's been a lot of talk pre-launch about whether those types of movies would be included on Disney Plus, the company's brand new streaming service that finally launched earlier this week. And now that the streaming catalog is available to browse and view (for $6.99/month or $69.99/year), we finally have our answer: Yes, many of those movies that might be controversial to users in 2019 are included, but with a disclaimer added to their plot description. Here's what it looks like for the 1941 cartoon version of Dumbo:
At the end of the movie's description, there's a sentence that reads, "This program is presented as originally created. It may contain outdated cultural depictions."
Similar disclaimers are also written into the descriptions for Lady and the Tramp, The Aristocats, and The Jungle Book.
This is after reports earlier this year said those movies would be included on the new streaming service, but would be edited to have more sensitive and outdated scenes removed. It now appears that they're available to stream unedited in their original form, and the disclaimer replaced any plans to remove scenes that might offend more people today than they did in the '30s and '40s.
As many people are noting online, though, Disney Plus does not include Song of the South, its 1946 movie that blended live-action and animation to tell a series of African folk stories as told by Uncle Remus, a former slave on a plantation. That movie is probably the most controversial in Disney's history.
It's worth noting that Disney Plus also doesn't include the 1981 release of Devil and Max Devlin, which starred Bill Cosby. As Cosby serves a prison sentence for rape, reruns of The Cosby Show have quietly left TV — without much backlash.
Disney Plus is now offering over 500 films and TV shows for its 10 million users to stream since its launch earlier this week.
This article was originally published on