Disney Releases Teasers Of What Will Be On Disney Plus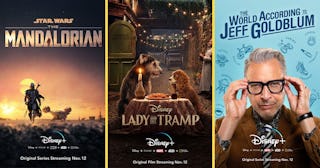 Disney +/Twitter
Disney Plus is almost here and the line-up is looking pretty epic
Disney has a new streaming service, appropriately called Disney Plus, and it's almost almost here. That's why they took to Twitter to properly introduce themselves to the greater public and of course, to tease us, too. Because, well, they can.
We're chomping at the bit! But we're also cool with it because what's coming looks pretty damn awesome. We'll just have to wait a little longer. Deep breaths, people. Deep breaths.
The streaming service can't come soon enough but in case you missed it, that date is November 12th to be exact. So mark it down on your calendars. Jot it down on a Post It note and stick it to your mirror next to your positive affirmations and your vision board. Basically, just remember it. Chances are, with all this service has to offer, you won't need the reminders anyway.
Ahead of the date, what better than a few nods to who and what we're going to see on the network to get us really pumped. As if we aren't already? It definitely has something for everyone.
Here's a taste of what they just let out of the bag.
An original series starring Jeff Goldblum? Where do we sign up again?
And who doesn't love a good Christmas movie, especially one starring comic geniuses, Anna Kendrick and Bill Hader?
Star Wars fans are definitely going to lose it over this series.
And a High School Musical series? OMFG. Disney Plus, where have you been all our lives?
A new version of Lady and the Tramp will be streaming, too.
Some of these new films look like they are bound to be must-sees. But clearly, there's a bit of everything. Including a Home Alone reboot. Hells to the YEAH. It's kind of the perfect way to get your nostalgia and your taste of what's hot and trending all in the same place.
Of course, some things, like Jeff Goldblum, we'll take any which way. Old or new. Really doesn't matter. He's always perfect.
Either way, it'll be a little easier come November to tune into some of the shows you really want. Like The Simpsons, for example. All in all, there will be 7,500 episodes of current and off-air TV shows, 25 original series, 10 original movies, 400 library movies and 100 recent theatrical films. Basically it's Disney… but better and with a whole lot of variety.
Of course there will be Disney films, but also Pixar, Marvel, Star Wars, National Geographic, and more. Not to mention, Disney Plus will be relatively affordable compared to other streaming services like it. It costs $6.99 a month or an annual plan of $69.99 a year. Not too shabby!
Consider us properly teased and ready for all this new service has to offer.
Bring it on, Disney Plus.
This article was originally published on