Little Girl's Disney Princess Adoption Surprise Will Give You All The Feelings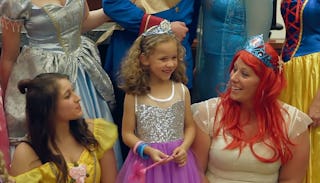 Disney princess-themed adoption was a real-life fairy tale for this 5-year-old girl
Instead of the typical and probably sterile and official-feeling court proceedings, one child got a very special surprise at her adoption finalization hearing.
According to Good Morning America, Danielle Koning had been a foster child with her new family since March 2014 and all involved were thrilled to finally make it official.
When the 5-year-old's adoption case worker found out she loved Disney princesses, Cinderella in particular, she decided to do something about it. Noting that one of her fellow caseworkers looked a little like Cinderella, she asked if she'd be willing to show up dressed like her for the little girl's hearing. Laura Mitchell, the executive director for Samaritas Foster Care Program and Child and Family Services says, "It was a special situation that really snowballed out of a request form Danielle's caseworker, who knew Danielle loved Cinderella so much."
Once word got out that Cinderella would be showing up to the Koning's proceedings, it was quite the royal snowball effect with other case workers volunteering to dress as Disney princesses. Even Judge Patricia Gardner wore a Snow White costume under her robe.
Of the effect this touch of magic could have on Danielle, her adoptive mom Sarah Koning says, "I think it's really important to make that adoption day special for every kid in whatever capacity you can. No matter what, if kids have been bounced around a lot, it really helps them to feel the permanency and know that they're not going anywhere now. It's really important for kids to feel that security."
We don't know what led to Danielle entering foster care, but it's safe to say she's had some disruption in her life that's hopefully coming to an end now that she's part of a loving family. She's so deserving of a fun and lighthearted celebration to herald the beginning of her new life with the Konings. Sure, an adoption hearing is a legal proceeding and a very serious occasion, but at the heart of this is a 5-year-old girl who loves princesses. It's positively heart-warming to see it tailored to the innocent child that she is.
As for the Konings, they're feeling nothing but relief and happiness about the completion of their family. In addition to Danielle, they've also finalized the adoption of daughter Nevaeh, age one. Sarah says, "We've been waiting so long for it and it feels really good to be able to settle and be a real family. We have been a real family, but to not have that looming over our head anymore is a pretty amazing feeling."
We can only imagine. Congratulations to the Koning family.