You're Going To Want All Of These Disney Princess Wine Glasses
by Christina Marfice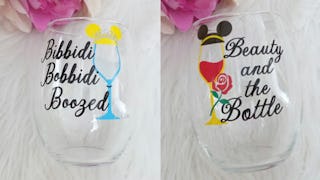 Image via SimplyEllieRose / Etsy
The perfect gift for grown up Disney lovers is here: Disney princess wine glasses
Who needs a glass slipper when you have a glass full of wine? That's pretty much how I feel about this adorable collection of Disney princess wine glasses just spotted on Etsy.
Etsy shop owner SimplyEllieRose offers a collection of 11 handmade glasses, each featuring a wine glass dressed up in princess colors, and a quote or movie reference, all tweaked to be booze-related. You can get the whole set, or just celebrate your fave princess. But spoiler alert: You're going to want the whole set.
The Etsy shop lists them as bachelorette gifts, but come on. You're buying these for yourself (and maybe also all your friends) just because. You deserve it.
The glasses rep pretty much all the major princess, so odds are good that you'll be able to get your fave. There's a Cinderella glass that reads, "Bibbidi, Bobbidi, Boozed."
The Beauty and the Beast glass, of course, says, "Beauty and the Bottle." We'd all watch that sequel.
Snow White is now "Drunkest of them all."
And Jasmine, from Aladdin, is discovering "A whole new buzz."
Instead of being under the sea, Princess Ariel is now "Under the influence." Same, Ariel. Same.
The Rapunzel themed glass echoes all of our sentiments after a long day, reading, "At last I see wine."
Sleeping Beauty's Aurora is now "Tipsy Beauty," which is what we should all be right now because we are beautiful princesses who deserve a glass of wine.
Pocahontas isn't following rivers anymore; instead, "She goes where the wine takes her." Again, same.
And Mulan, who once fought for her country, is now all about "A drink worth fighting for."
There are also a few glasses available that aren't pictured. Elsa's reads "Let it flow," and Moana's glass says what we're all thinking every Saturday night: "The wine, it calls to me." You can order any of the glasses as shown, or you can have the bottoms dipped in glitter in the color of your choice, because you're fancy.
These are just the latest in a long line of Disney products we have to have. And more and more of them are geared toward adults, sharing the magic with kids and grown-up Disney lovers alike. So if anyone needs me, I'll be poolside, sipping my summer rosé out of one of these. Feel free to join, but BYO princess glass.