Artist Reimagines Disney Princesses As Modern Brides
by Christina Marfice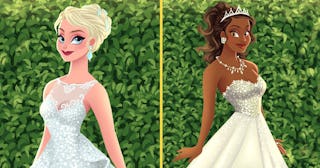 Greco Archibald/Instagram
Here are all the Disney princesses in the wedding looks you didn't get to see in the movies
While it's pretty standard for Disney princesses to find their true loves by the time the credits roll, not all of them get to actually walk down the aisle onscreen. That's a bummer, because can you even imagine the kinds of looks these ladies would serve up at their weddings? That's enough inspo for every Pinterest board in the world.
RELATED: 10 Royally Cute Princess Coloring Pages To Help Mama Get Some Peace & Quiet
One online artist, who goes by the name of Greco Archibald, has been imagining just that. They created a series posted to Instagram that shows all the Disney princesses from our favorite movies (now available to view on Disney+ for $6.99/month) in the wedding splendor they probably would have picked out for themselves. And dang, the looks are just stunning and so fitting for each princess's story and personality.
"My key inspiration in creating the series was I like to draw modern gowns since I see a lot of designs and I am also a wedding planner in real life," Archibald told Scary Mommy. "And the Disney Princesses are a great model/muse to use since they are very popular especially in the Instagram art community."
If you ask us, they nailed all these looks.
Like check out Ariel, whose beach-themed wedding would need a dress just like this one, with a sky-high slit to show off those gorgeous legs our girl worked so hard for.
Aurora's off-the-shoulder gown has delicate lace detailing, and a bouquet of pink lilies is a nod to her iconic pink dress.
Cinderella is, of course, in the most stunning of ballgowns, complete with delicate silver detailing.
Snow White's dress is not white, but a soft blush color, which makes sense, with her coloring and all.
And Belle's dress contains roses, naturally.
Jasmine's gown is a nod to her heritage, since Archibald based it on a number of dresses by a Dubai-based designer.
https://www.instagram.com/p/BkkyIkugtFK/
Pocahontas' low neckline makes sure her iconic necklace is a focal point.
Esmerelda, of course, is wearing a fringey, Bohemian-inspired dress, which is a perfect nod to her personal style.
While Tiana's tiered gown is absolutely fit for the princess she is.
It isn't just the classic princesses who got wedding makeovers in Archibald's collection. The modern Disney ladies are here too, like Rapunzel, whose yellow gown matches her famous hair.
And Merida in a wedding pantsuit that won't keep her from jumping on horseback at a moment's notice.
Elsa's peplum dress and sleek updo both scream "woman in power," which is exactly what she would want, TBH.
And Moana's flowery halter dress paired with wedges would be perfect for a casual, breezy, island ceremony.
If you've ever wanted a subtly (or not) Disney-themed wedding, here's all the inspo you need. BRB, finding a tailor who can recreate Ariel's dress, because need.
This article was originally published on