Scene With Every Disney Princess Meeting For The First Time Is Breaking The Internet
by Cassandra Stone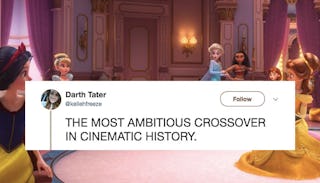 Image via Twitter/EW/@kellehfreeze
In the upcoming movie 'Wreck-It Ralph 2,' all of the Disney princesses come together for the first time
Forget superhero and comic book crossover movies, Disney is about to top all of that nonsense with the biggest "crossover" scenes in the upcoming sequel to Wreck-It Ralph, coming to theaters this November. So what makes this crossover bigger than big, you ask? Because Disney is gathering up their most powerful leads into one scene — the Disney princesses. All of 'em. From Snow White to Moana.
And everyone is (rightly) losing their collective shit on Twitter.
USA Today released images from Wreck-It Ralph 2 and among them are a few photos depicting a scene that will make your inner child squeal.
Yep, that's right, Wreck-It Ralph's Vanellope in a room with all of our favorite Disney leads.
The sequel puts Ralph (voiced by John C. Reilly) and Vanellope (voiced by Sarah Silverman) directly into the world of Vanellope's princess video game, Sugar Rush. This means she gets to meet all the other Disney princess characters as she officially becomes "one of them."
Look, summer blockbusters that feature crossovers like Batman vs. Superman and Avengers: Infinity War are great because they give their fans what they truly want to see. But please, can we all just take a moment to realize how HUGE it is that every princess worshipped by every generation of Disney fans for all of Disney time are meeting for the first time?
Disney lovers all over Twitter are beyond excited to catch a glimpse of Disney princess history.
https://twitter.com/jetpack/status/1001979263267082248
Though it should be noted the exclusive photos don't feature all of the Disney princesses (but that doesn't necessarily mean they won't be in the film).
The full scene premiered for die-hard Disney fans during the D23 fan expo last year. The reception was, as you can probably imagine, very warm and welcome. So welcome, in fact, that one fan practically passed out from excitement.
"We had screened the sequence before in-house and got a good response, but when those princesses came onstage, it was like the Beatles to that crowd," Wreck-It Ralph 2 director Rich Moore tells EW. "I saw a woman in her chair sort of hyperventilating when it was all over because she couldn't believe it had happened."
Be sure to bring your tiara (and perhaps a paper bag to breathe into) when Wreck-It Ralph 2 hits theaters on November 21.
This article was originally published on