Your Kids Are Going To Love This––Cook A Meal And Watch 'Raya & The Last Dragon'
by Nikkya Hargrove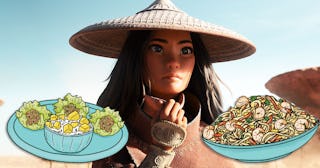 Disney+ and Raddish
Cooking and eating a meal together is a beautiful way to strengthen one's relationship with the ones you love – especially when it's paired with a family movie night. Disney has partnered with Raddish Kids, a cooking club for kids, to provide families with a free guided hands-on meal kit experience centered around the new movie "Raya and the Last Dragon," which premiered on Disney+ and in theaters last week. The movie gives viewers a look into an imaginative land in Southeast Asia called Kumandra, in which Raya — a Southeast Asian princess —must find the last dragon.
The "Raya and the Last Dragon"-inspired kit is being offered by Raddish Kids as a free printable guide for parents and kids to create a meal together inspired by cuisine from Raya's Southeast Asian culture. The printable includes a grocery list, three recipes — shrimp noodles, pork lettuce wraps, and mango sticky rice — and mealtime "talk cards" with questions and conversation prompts to help nurture the family bond around the dinner table. Everything from the grocery list to the recipes is illustrated, which makes them super easy to follow when you're cooking with even the littlest kids (and clear step-by-step instructions so you can feel confident too).
If you need a tutorial, the page has a detailed cook-along video featuring Raddish Culinary Coach Chef Julie. The video also contains a guest appearance from longtime Walt Disney World chef David Nguyen, who recounts the power of food and the comfort it brings him, sharing, "The importance of food and the sense of gathering is heavily featured in the film and is something that was deeply impactful in my decision to become a chef." He goes on to speak about his love of food and community, saying, "My biggest inspiration is my mother who emigrated from Vietnam with my father. My mother took pride in making sure we ate food from our culture…When I eat a dish from my family's culture, I am brought back to those times of a home cooked meal and sitting around the table with my family."
Working together in the kitchen provides families with the opportunity to connect, devoid of remote learning or Zoom meetings, or the constant news about the pandemic we are living through. And cooking dishes like the ones featured in this Raddish kit opens our hearts and minds to a culture different than the one we identify with.
The movie's main character, Raya, is voiced by American actress Kelly Marie Tran. Like Chef David, Tran was born to Vietnamese parents – and many of the creators and producers of Raya also share a Southeast Asian heritage. We must remember that Southeast Asia is not one or two different countries but a region made up of 11 different countries, comprised of over 670 million people and various cultures (and foods). The Raddish Kids/Raya cooking kit is a way for families to explore the cuisine of countries like Thailand, Vietnam, and China, in hopes of urging them to want to learn more about those and the other countries and people that make up Southeast Asia.
The beauty of this cooking kit is that while stuck at home, families can educate themselves about other cultures, other countries in Southeast Asia — while bonding not only through a good meal, but a good movie. By planting the seed in the kitchen, the hope is that families will go a step further to learn about Asian culture. From shopping together for ingredients, looking at different cooking utensils and tools, and being in the kitchen embracing the smells of these very different "Raya"-inspired recipes, families can grow to understand and explore more cultures and regions from around the world. Raddish Kids and Disney have provided a fun way for families to take the leap from traditional American meals and try dishes inspired by the newest Disney princess and her family.
Spanish author Miguel de Cervantes once said, "The stomach carries the heart, and not the heart the stomach," which holds true today. We can introduce our homes, tastebuds, and hearts to cultures, foods, and people to help us better appreciate, love and understand one another — and the Raddish Kids Raya inspired cookbook is a fun step in that direction for the whole family.
This article was originally published on