Disney's Selling Rose Gold Minnie Mouse Cupcakes Now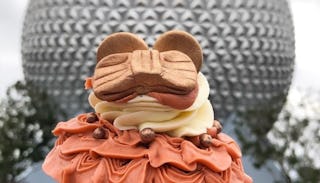 Image via Instagram/Disney Food Blog
Disney just introduced a rose gold cupcake, and it looks delish
If you're a fan of rose gold, then you may remember how Instagram lit up last summer with photos of people rocking Minnie Ears in that distinctive, gorgeous hue. Rose gold Minnie Ears are still nearly impossible to find (I've visited the Kingdom at least a dozen times in the past year and still haven't come home victorious). Thankfully, Disney's giving us another way to get our luxe color fix, with a Minnie Mouse-themed rose gold cupcake that's almost too pretty to eat.
Behold:
According to the Disney Food Blog, this rose gold dream is perfect for those of us who like it when our desserts only look fancy. The cake is good old vanilla and chocolate marble and the frosting is classic vanilla, plain and dyed. The whole thing's topped with a fondant rose gold Minnie bow and pearls, because Minnie's classy like that. Disney Food Blog says, "While layers and layers of multi-colored frosting aren't for everyone, Disney's attention to detail — the glittery Mini ears and edible pearls — is worth every penny."
Who wouldn't want to grab a fork and dive in (after taking 200 photos, of course).
https://www.instagram.com/p/BeCTDThH8wq/?hl=en&tagged=rosegoldcupcake
If you're headed to the house of mouse and determined to claim one of these sugary wonders as your own, there's a few things you should know. First of all, they're only available in Disney World, not Disney Land, so sorry to all the west coast peeps.
And you can't snag one of these sweet shimmery delights just anywhere. For now they're only being sold at Sunshine Seasons in the Land Pavilion at Epcot. (Follow the signs downstairs to the Soarin' ride, Sunshine Seasons food court is right next door).
The breakfast of princesses.
Carrying it around as the final accessory to your carefully curated rose gold ensemble is also an option.
A beautiful sweet treat in our favorite color. Disney really is the place where all your dreams can come true.