Disney Posts Signs, Builds Fence After Alligator Attack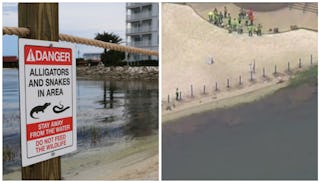 Image via Twitter
Disney builds a fence and posts alligator warning signs in the wake of Lane Graves' tragic death
Last week, a family vacationing at Walt Disney World lived through a literal nightmare. Nebraska couple Matt and Melissa Graves lost their toddler son to an alligator attack at a lagoon on Disney's Grand Floridian Resort & Spa. Only a few days later, there are changes being made at the site where the child was dragged under water by the animal.
According to The Orlando Sentinel, signs and a fence are being erected around the area where 2-year-old Lane Graves was pulled into the water in front of his family and ultimately, killed.
A statement provided by Walt Disney World vice president Jacquee Wahler says, "We are installing signage and temporary barriers at our resort beach locations and are working on permanent, long-term solutions at our beaches." Alluding to even more changes, Wahler explains, "We continue to evaluate processes and procedures for our entire property, and, as part of this, we are reinforcing training with our cast for reporting sightings and interactions with wildlife and are expanding our communication to Guests on this topic."
The fence being built by workers only three days after Graves' death is made of wooden posts connected by rope all along the edge of the Seven Seas Lagoon. As of yesterday, all beaches on the park's property remained closed to guests.
In the wake of this terrible tragedy, stories have emerged from others who've vacationed at the resort and spotted alligators near tourists as well. One mom shared chilling photos of her son playing in the very spot that Lane was killed only hours before the incident occurred. Beyond that, video has surfaced of a Disney employee fending off an alligator at the popular Small World attraction on park property.
In addition, The Hollywood Reporter states that Disney is eliminating certain jokes from the script on its popular Jungle Cruise ride with cast members being told not to say the usual line, "watch your children, or the crocodiles will."
It's comforting to see Disney making these changes as it could help mitigate future issues with wildlife encroaching on the park's guests and posing a danger. Alligators are inevitable in Florida waters, but obviously, people that aren't native to the area can't be expected to understand that without signs warning them. The photos surfacing of families allowing their kids to play in the very lagoon where Lane Graves was attacked is proof of that sad fact.
We can only hope that adjustments like the fence and warning signs in the areas where alligators are known to be, along with the public being made aware of the threat they pose, will prevent another nightmare like the one the Graves family is going through right now. Assuming everyone would understand the danger these animals present to humans was a tragic mistake, and these steps will hopefully mean no more tragedies like this going forward.