Disney Now Serves Wine Slushies Because Parenting At Disney Deserves A Reward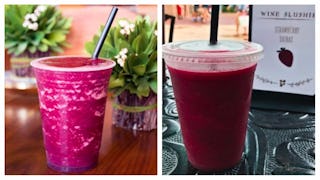 Frozen wine at Disney Springs? Yes please
Sure, Disney World is the most magical place on earth for kids. For parents, it's equal parts magical, stressful, and exhausting. Lucky for us all, Disney is about to get a whole lot more magical for the 21+ crowd. Why? Two words: wine slushies.
That's right. Frozen, delicious wine drinks in convenient to-go cups are now being served at a pastry shop at Disney Springs, the outdoor shopping and dining resort near Walt Disney World in Orlando. At Amorette's Patisserie, kids can enjoy any of their delectable desserts while Mom and Dad self-medicate (we kid, we kid) through the theme park stress with a frozen Mango Moscato slushie.
https://www.instagram.com/p/BYT9umhlgJl/?tagged=amorettespatisserie
If you thought the best new thing to come out of Disney were the rose gold Minnie ears, just you wait.
Nothing takes the edge off Disney World meltdowns, epic Florida heat, and the amount of money you're burning through quite like a crisp, frozen, Strawberry Shiraz.
Astonishingly, this wine slushie thing is brand-new for Disney Springs — which leaves us wondering how in the Donald Duck has no parent initiated this idea yet?
Whether you stop by for a little pre-park pick-me-up or soothe your end-of-day nerves, Amorette's Patisserie seems like the place to go if you're an adult enjoying a Disney family vacation.
While the wine slushies may be new to the Disney area, they seem to be quite a hit already.
While these drinks aren't actually served inside the theme park, stopping by for a quick slushie seems like a great way to cope with the enormous crowds. Or the perfect parental "treat yoself" at the end of a long day.
TBH, we don't know what's better: these or wine in a pouch.
Either way, we can't think of one occasion where we wouldn't welcome a cup of frozen wine. Have you been to Orlando in the summer? One trek through the park and you'll be seeing wine slushie mirages, everywhere.
This article was originally published on