8 Stocking Stuffers For The Disney Fanatic In Your Life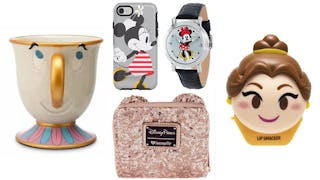 Image via Walmart
These Disney-themed stocking stuffers will deliver all of the holiday magic
Put on your Mickey Mouse ears and prepare for a whole lot of whimsical magic. Walmart is selling some ridiculously adorable Disney gifts that will make the perfect stocking stuffers this year. Warning: the following items might cause some Disney fanatics to combust from pure, unadulterated joy.
Will this very, very cute Minnie Mouse phone case motivate your family members to finally STOP breaking their phones every few months? Fingers crossed that's a yes.
Speaking of Minnie, you can also snag this little Disney-themed number. We could all use the most adorable member of the Mickey Mouse gang on our wrists at all times.
This holiday season, your Disney-obsessed family member should prepare to let it alllll go with this Frozen lip balm collection (which comes complete with bubble gum, blueberry, grape, and cotton candy flavors). Elsa would fully approve.
Is your kid more of a Belle than an Anna? Go with this ultra cute lip smacker created for the truest of Disney fans.
If you're going to buy cool Disney-themed makeup, you might as well also snag a Disney-themed makeup bag to store it all in. Go big or go home.
This mug looks exactly like Chip from Beauty and the Beast. It also gives everyone free rein to sing "Be Our Guest" at the top of their lungs for all of Christmas.
It's almost winter which means it's officially time to build a snowman. Celebrate all the icy good times with this Olf-themed tumbler.
Anything rose gold is dreamy. But a Disney rose gold purse with little ears? Beyond.
Here's to stockings filled with all the animated magic. It's also perfectly acceptable for you to fill your stocking with Disney goodies as well – because, I mean, why should everyone else have all the fun?
We are a participant in the Walmart.com Affiliate Program and may earn fees by linking to Walmart.com and affiliated sites.
This article was originally published on