Disney Stores Are Now Open In Dozens Of Target Locations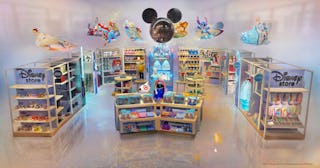 Target
Disney Store inside Target? Welcome to the one-stop shop of your dreams
We all already know of the Happiest Place On Earth: Disney World/Land/Store/all of its subsidiaries. And then there's our every day happy place: Target.
Buckle in, everyone, because the two are becoming one. Disney Stores are coming to Target, and we're officially planning to shop only there and nowhere else for the rest of our lives. BRB while we pack up and prepare to move into our new home, Target.
Target has long carried a ton of Disney products, which has made it our go-to spot to snag a look for every incredible Disney movie premiere this summer. But things are now even better when 25 Target locations getting their very own shop-within-a-shop Disney Stores this month. And to make this news even better, 40 more Target locations will get Disney stores by October 2020.
The mini Disney Stores will carry more than 450 items, including over 100 products that you previously could only get at official Disney Stores. No more taking a special trip to the mall to hit up that magical store. All you have to do is go to Target, and let's be honest, you were already planning on going to Target anyway.
According to a release, the shops have "Disney Princess, Star Wars, Marvel, Disney Junior characters, Classic Disney plush, apparel, home and holiday products, along with collectibles like the Disney Animators' Collection." So basically everything we could ever want, at the store where we already spend the most time. All our retail dreams are coming true.
But here's the thing that makes this news even more exciting. This partnership was announced at the D23 Expo this weekend, where Disney executives gave a few more details about what shoppers can expect when they roll into a Disney store inside a Target, and let us be the first to tell you how amazing this is going to be.
Instead of being just stores, Disney has a whole plan to make these spaces interactive for shoppers and families. That means there will be special photo staging areas (my Instagram is ready), interactive displays, and areas where people can hang out and watch clips from Disney movies and shorts. When we said we were moving in and never leaving, we actually meant it. This place is going to be like a mini Disney vacay without even having to leave town.
While the Disney Stores are only coming to select Target locations, that doesn't mean you're completely out of luck if you don't live near one. You'll be able to order Disney Store products from Target's website, and take advantage of that sweet, sweet two-day shipping they offer for free. Truly, everyone wins. Happy shopping!
This article was originally published on